Vegas millionaire leaves estate to Scots National Trust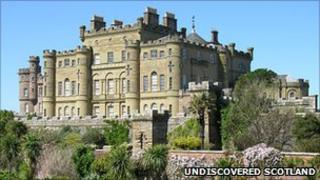 An American supporter of the National Trust for Scotland who recently died is thought to have left a substantial amount of money to the charity.
The man has given nearly $4m (£2.5m) to the trust in the past 18 months.
He is thought to be 79-year-old William R Lindsay, an "extremely private" millionaire from Las Vegas.
A spokeswoman from the National Trust for Scotland said the matter was still being dealt with by lawyers and they did not know the value of the donation.
She said: "We confirm that the trust was recently notified of the death of a major donor who wished to remain anonymous.
"This individual had been a long-time supporter and generous donor, making substantial contributions for which the trust is hugely appreciative.
"Support such as this is vital to enable the charity to carry out its vital conservation work.
"The trust is expected to be a beneficiary from the estate."
The Scotsman newspaper reported that the man was Mr Lindsay, a millionaire who died at his home in Las Vegas in November.
'Private person'
He is thought to have had historic link with Scotland and a passion for its history, but never visited the country.
His previous donations to the National Trust for Scotland contributed to projects at Culzean Castle and the Burns centre in Alloway.
In 2000, he gave £1.2m to the University of Glasgow to fund the William R Lindsay Chair in Health Policy and Economic Evaluation.
At the time, a university spokesman said he was an "extremely private person" who called up "out of the blue" in 1998 and asked how much it would cost to fund a professorship.
The spokesman said: "He felt very strongly that the chair should be set up in health policy so he could be involved in health in some way.
"He didn't want any publicity at all and it was as much as we could do to persuade him to let us name the chair after him. It's all a total mystery."