Five fire deaths in Scotland since start of 2011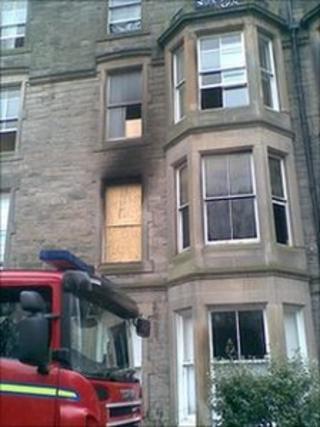 Five people have died in house fires in Scotland in the first four days of the new year - with six deaths in total since Christmas.
The latest tragedy claimed the life of a 68-year-old man at a house in Luss, Argyll and Bute, on Tuesday morning.
Earlier, 79-year-old Berit Mountain, died in hospital after a blaze at her flat in Argyle Park Terrace, Edinburgh.
Fire brigades have reissued appeals for everyone to ensure they have a working smoke detector installed at home.
Fire crews were called to reports of a blaze at a house in Murray Place, Luss, on the west bank of Loch Lomond, at about 1030 GMT on Tuesday.
The fire was extinguished and the elderly man's body was found inside.
The cause of the fire is being investigated but is not being treated as suspicious.
The blaze in Edinburgh which claimed the life of Ms Mountain was reported after 1700 GMT on Monday.
She was rescued from her flat and treated at the scene by paramedics before being taken to the city's Royal Infirmary.
The pensioner was later transferred to the burns unit at St John's Hospital in Livingston, where she later died.
Other incidents
Two men and a woman were also taken to hospital with less serious injuries.
The cause of the blaze, which fire crews described as "ferocious" is under investigation.
In other incidents, a 45-year-old man died after a house fire in the Dumbarton area at about 0130 GMT on Monday 3 January.
A man in his 50s died following a fire at a flat in Coatbridge, North Lanarkshire, at 0100 GMT on Sunday 2 January.
A 53-year-old woman died in a fire in a flat in Johnstone, Renfrewshire, at about 1645 GMT on New Year's Day.
A 75-year-old man died in a fire at his home in Thornliebank, East Renfrewshire, at 1000 GMT on Monday 27th December.
A spokesman for Strathclyde Fire and Rescue urged people to be extremely careful over what remains of the festive holiday and beyond.
He said: "The use of candles and tea lights in the house and increased consumption of alcohol help to increase the risk of fire in the home."
The service reminded the public that it provides free home fire safety visits.
"We provide advice and guidance about how to reduce the risk of fire within the home and what to do if one takes place - we provide free smoke alarms," the spokesman added.