Drink driver had his children in car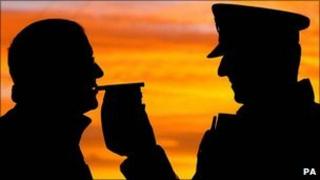 A drunk father caught driving his four young children was one of more than 400 Scots who took to the roads while over the limit during the festive period.
The 42-year-old was caught by police in Dunbar on Christmas Eve driving the youngsters, aged four, five, nine and 10, while twice over the alcohol limit.
Police caught 426 drink drivers across Scotland in the last four weeks, down from 460 the previous year.
Despite the reduction, senior officers still branded the figure unacceptable.
The results of the annual festive driving campaign, run by the Association of Chief Police Officers in Scotland (Acpos), saw a rise in the number of people caught on the roads under the influence of drugs, from 18 to 25.
Acpos drink drive spokesman Ch Supt Brian Anderson, said: "At the end of this year's campaign, the overall number of offences compared to last year is less, however, we have still detected an unacceptable number of people willing to risk their lives and the lives of others.
"When you consider that December saw the worst weather and driving conditions we have seen for many years, I am horrified that at the number of people who still thought that it was acceptable to drive whilst impaired."
Learner driver
As well as the arrest in Dunbar, in East Lothian, other notable incidents during the campaign included a 39-year-old man caught more than three times over the limit after he failed to stop following a minor collision.
In Aberdeen, a drunk driver who crashed his vehicle tried to escape prosecution by reporting it stolen, while, in Kirkcaldy, Fife, a 25-year-old man supervising a learner driver was also caught while more than three times over the limit.
In Ross-shire, in the Highlands, a 21-year-old who stole a moped and rode it while drunk was jailed for eight months and, in Wishaw, a 20-year-old man stopped for drink driving led to the seizure of £5,000 worth of drugs after a search of his home.
In the final week of the campaign, Dumfries and Galloway Constabulary detected two offenders for drink driving and one for driving under the influence of drugs.
Elsewhere, Acpos said the number of repeat drink drive offenders had fallen, pointing out that 18 people faced having their vehicles seized, compared with 47 during the last campaign.
Police said they would continue to enforce drink drive laws throughout the year.