Tommy Sheridan planning News of the World legal action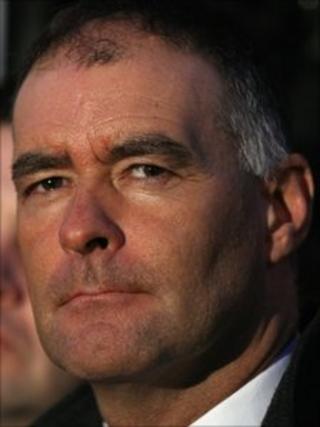 Disgraced former MSP Tommy Sheridan is planning to take legal action after his personal details emerged in an investigation into phone-hacking.
He has instructed his lawyers to pursue the News of the World and a private investigator for breach of privacy.
It comes after details about his home address and mobile phone were found in two of the investigator's notebooks in a police raid four years ago.
Sheridan, 46, was found guilty of perjury last month.
The High Court in Glasgow found Sheridan guilty of lying under oath during his defamation action against the News of the World in 2006.
He is due to be sentenced later this month.
The former MSP is also planning legal action against the Metropolitan Police, claiming they failed to warn him he was on a list of people who were suspected targets for phone-hacking by investigator Glenn Mulcaire.
Mulcaire was jailed for six months in 2007 after intercepting voicemails left for royal aides. The News of the World's former royal editor Clive Goodman was also jailed.
It has also suspended its news editor Ian Edmondson over allegations of phone-hacking at the paper in 2005-06.
The News of the World said it has a "zero tolerance" approach to any wrong-doing.
Investigation questions
Solicitor for Sheridan Aamer Anwar confirmed his client's intention to raise legal action against News International and Scotland Yard.
Mr Anwar said: "Mr Sheridan wants to know who instructed the hacking, why wasn't there a full and transparent investigation by the Metropolitan police and why wasn't he informed.
"It wasn't just one occasion: it's on two separate occasions.
"This won't be an action for damages; it's an action to find out what went on.
"It is in the public interest to find out what's going on."
Actress Sienna Miller is one of a number of people currently taking action through the courts claiming that their privacy was breached by the News of the World.
Representatives of comic Steve Coogan and TV presenter Chris Tarrant are also taking legal action after the Metropolitan Police confirmed their clients' personal details were in the possession of Mulcaire.