Snowfall affects roads and flights in Scotland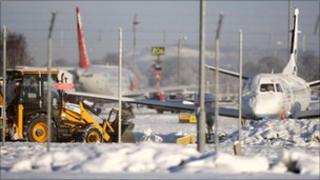 Snow across Scotland has brought warnings of icy roads and disrupted flights to and from Edinburgh Airport.
The runway reopened at midday on Saturday after crews cleared 4in of overnight snow but passengers have been warned of delays.
The Met Office issued severe weather warnings of snow for west and central Scotland and warnings of icy conditions across the country.
Showers will affect many places into Saturday evening before dying away.
The warning of snow showers covers the Strathclyde, Clackmannanshire, Dumfries and Galloway, Falkirk, Perth and Kinross and Stirling areas.
There have also been warnings of widespread icy roads across the rest of the country, along with scattered light sleet and snow showers.
Police urged drivers to take extra caution on the roads.
Temperatures across much of Scotland are expected to stay below zero on Saturday, and it will be a similar picture on Sunday before warmer weather arrives on Monday.
Edinburgh Airport advised passengers to contact their airline. Glasgow and Aberdeen airports were not reporting any disruption.
A total of 20 departures and 16 arrivals were cancelled at Edinburgh, with two flights diverted to alternative airports.
On Friday, coastguard teams were called out to help care workers reach elderly people on the Isle of Lewis after four inches of snow fell.