Scotland bids for Tour de France stage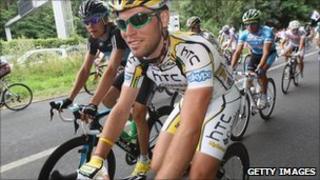 Scotland is to bid to host the opening stage of the Tour de France, cycling's most prestigious competition.
Event Scotland hopes the first part of the race, the Grand Depart, could take place in Edinburgh or Glasgow in 2017.
Chief executive of the national events agency, Paul Bush, said the time-trial stage would cost about £5m to host - but could bring £100m in to Scotland.
The Tour organisers take the start of the event outside France every two to three years.
Mr Bush told BBC Scotland radio's Good Morning Scotland the bid was ambitious.
"To bring the Grand Depart Tour de France to Scotland - which is one of the greatest sporting events every year - in 2017 would be a huge coup," he said.
Mr Bush, who has met Tour director Christian Prudhomme, said: "It's already been in London, and it was in the South of England and in Ireland in previous years.
"But there's also been audacious and ambitious plans for the east coast of America, even the Middle East and Japan."
With Glasgow hosting the 2014 Commonwealth Games and Gleneagles having the Ryder Cup in the same year, Event Scotland are keen to build on these global events by including cycling's most prestigious race.