RNLI lifeboat crews rescued 900 people in 2010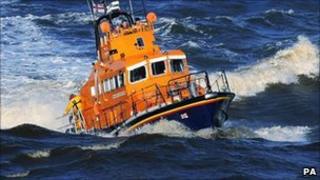 Scotland's volunteer lifeboat crews rescued more than 900 people last year, new figures have shown.
During 2010, crews at the country's 45 lifeboat stations rescued 921 people, including 89 under 18s.
The figure, released by the Royal National Lifeboat Institution (RNLI), is a small increase on 2009 when 912 people were rescued.
The RNLI averaged nearly three launches every day, with the busiest station being Queensferry, with 74 launches.
RNLI Broughty Ferry, near Dundee, and Kinghorn, also on the east coast, were second busiest with 70 launches each.
RNLI Lerwick in Shetland had 22 call outs, clocked up 90 hours at sea, with four launches in a force-seven wind or greater.
In a two-day period in September, the Lerwick volunteers spent more than 18 hours at sea helping boats with engine room fires.
The crew from RNLI Mallaig, on the west coast, was credited with stopping a 1,300-tonne coaster from running aground on the Isle of Rum during "horrendous weather conditions" in November.
Viking boat
Unusual call outs included crews at RNLI Kinghorn and Anstruther rescuing 14 people dressed as Vikings on board a replica Viking longboat on the River Forth in September.
Sailing boats accounted for the most number of rescues, with lifeboats being called out on 178 occasions, while 157 fishing vessels required assistance.
Wave Crookes, RNLI divisional inspector for Scotland, said: "We had a period of extreme wintry weather in Scotland and yet none of our lifeboat stations had a day off service because of the weather."
The RNLI, which is a charity, rescued 8,313 people around the coast of the UK and Ireland and launched 8,713 times.
Michael Vlasto, RNLI operations director, said: "Around our coastline our lifeboat volunteers and lifeguards have once again demonstrated their priceless commitment to saving lives at sea.
"But that is only part of the story, every one of the rescues carried out by the RNLI in 2010 was only made possible due to the incredible generosity of the public, even in these difficult times."
All-weather lifeboats, which can go out to sea covering distances of around 100 miles away from the coast, have one or two paid staff members. The rest of the lifeboat crew are volunteers.