Alex Salmond seeks 'clarity' on future of RAF bases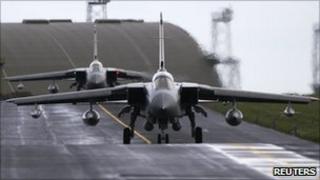 The first minister is to seek another meeting with UK Defence Secretary Liam Fox to discuss the potential closure of Scottish RAF bases.
Alex Salmond was speaking after meeting with campaigners arguing for RAF Leuchars in Fife to remain open.
RAF Lossiemouth in Moray and Leuchars are both under threat due to cuts, while the closure of RAF Kinloss as an air base has already been confirmed.
Mr Salmond wants to know why it could be months before a decision is made.
He said: "The UK government's strategic defence review has far-reaching consequences for the communities of Fife and Moray, socially and economically.
"Scottish government ministers stand shoulder-to-shoulder with Fife and Moray as they campaign to protect local jobs, infrastructure and investment in the face of unprecedented cuts from Westminster.
"We urgently need clarity from the MoD on the future of these important RAF bases and I will press this point when I meet UK ministers in London next week."
'Straight answers'
The first minister's meeting with Fife community leaders and councillors coincided with UK armed forces minister Nick Harvey travelling to RAF Kinloss and RAF Lossiemouth, both in Moray, to meet civilian and RAF staff at both air bases.
Mr Harvey was also due to meet representatives of the Moray Task Force, which was set up with the aim of protecting the area's defence jobs.
On Wednesday, Mr Harvey said major decisions on the future of Britain's military bases may not be made until the summer, prompting Mr Salmond to argue that those affected deserved "some straight answers" from the UK government.
The government announced in October it was cancelling the next generation of Nimrod aircraft, placing the future of RAF Kinloss in doubt.
There are also concerns for RAF Lossiemouth if it loses its Tornado fleet to RAF Marham.
A petition with more than 30,000 signatures aimed at saving RAF Lossiemouth was delivered to 10 Downing Street earlier this month.