Call to examine self-harm in Scottish prisons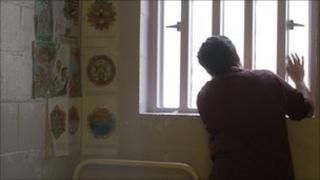 The Liberal Democrats have written to the chief inspector of prisons asking him to explore why self-harm is rising in some prisons and falling in others.
Figures obtained from parliamentary questions showed there were 219 cases of self-harm in Scottish jails in 2010.
Addiewell, Edinburgh, Perth and Cornton Vale saw an increase, while all other jails saw self-harm decrease.
Self-harm has risen dramatically from 91 cases in 2004. The SPS said the rise partly reflected better reporting.
At Aberdeen, Barlinnie, Dumfries, Glenochil, Greenock, Inverness, Kilmarnock, Peterhead, Polmont and in the Open Estate self-harm decreased in 2010. Shotts remained the same.
Liberal Democrat justice spokesman Robert Brown said: "There's been recent criticism of the inadequacy of social work in Scottish prisons.
"Prisoners also need access to mental health facilities while inside as part of the rehabilitation process.
"They need to be equipped with coping mechanisms to help them turn away from crime when they're released. This is unlikely to happen if they are so disturbed that they self-harm in prison."
A spokesman for the Scottish Prison Service said: "The self-harm statistics represent robust reporting of incidents which were much lower in previous years.
"Prisoners often arrive in prison having experienced emotional and traumatic personal circumstances, which is added to the stress of being incarcerated."
There was almost a 20% jump in reported self-harm at Addiewell prison, where the average population reached capacity last year after the new facility opened in December 2008.
It did however have the highest number of incidents in 2010, along with Kilmarnock and Scotland's only womens prison Cornton Vale.
Kilmarnock, which is run by private operator Serco, said its high self-harm figures were due to its "very strict" reporting requirements.