'I can't imagine working without my dog'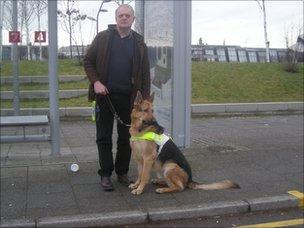 BBC Scotland TV and radio reporter Ian Hamilton is totally blind and got his first guide dog 28 years ago. In October last year he was introduced to his new dog, a gentle German Shepherd called Renton.
Renton, who is two, is Ian's sixth guide dog. Here, Ian, who is from South Lanarkshire, talks about the challenges he and Renton have faced together so far.
For the last few months I've been training with my new guide dog.
As you can see in the photograph he's a large German Shepherd, called Renton (He's the one with the fur coat).
After many years of faithful service, my dog Moss, a black Labrador, had to retire last June, due to some health issues. This meant that I was without a dog for five months until the Guide Dog Association found me a suitable replacement.
As the hunt began to find a new dog, it was decided here at BBC Scotland, that this would be an ideal opportunity to make a TV documentary about the process of being trained with a new dog.
As a reporter currently working for BBC Newsnight Scotland, I work with a wide range of people.
So it is crucial that I get a dog that has a suitable temperament, pleasant to strangers, quiet, patient and approachable.
After all, I don't want a dog attacking politicians just because they'll not answer my questions.
As I began the process I thought it was quite remarkable that given all the technology at our disposal, some blind people are still relying on a dog to get us around.
It is nearly 100 years since the first guide dog was trained in Germany after the First World War.
They helped serviceman blinded in the trenches across Europe.
And the idea of using dogs then spread around the world helping tens of thousands of blind people.
Making the documentary gave me the opportunity to explore other methods of mobility, some of which blew my mind.
One involved brain power alone while others involve new technology. I won't tell you too much. You'll have to watch the programme when it's broadcast at the end of March or you can keep up to date with my blog.
I've had Renton for four months and he's doing well.
After months using a white stick I can't express how good it is being guided again by a dog.
With a stick I would find a wheelie bin on the pavement then I would navigate my way around it (which took an age). With Renton I glide past obstacles not even knowing they are there.
But we are both learning new things all the time.
During the few days we trained at a hotel before I took Renton home he was showing classic Shepherd signs of not settling; hiding his big head in tiny corners, taking himself away to a different room, in this case the hotel bathroom, refusing to come out or even to eat.
I heard it described as him being like a stroppy teenager throwing his weight around.
We called it his U- bend phase, as Renton spent most of his free time staring at a space under the sink.
Training with him has also been different.
All guide dogs are trained to stop at kerbs to indicate a junction, whether it is busy or quiet.
So far all my dogs have sat at kerbs, but Renton stands.
Now this is quite different. This is because he is so large that by the time he sits down he is about three feet from the edge so he has been trained to stand instead.
Unfortunately our training was disrupted by the snow which came in November and refused to go until January.
This made it very difficult for me to work Renton.
Snow in itself isn't the real problem. It's what it hides.
All the pavements disappear, so I don't know where the pavement starts and the road ends. This makes it very disorienting.
Consequently, we lost some crucial training time.
The most important stage in my relationship and training with Renton is the first six months as we establish our partnership, so any disruption is awkward.
We'll catch up I'm sure, as long as the snow stays away.
A dog like Renton is not just a form of mobility, he's also a fantastic companion.
People who would normally be either too shy or embarrassed to strike up a conversation, approach me for a chat when I'm with him.
I also use a satellite system for the blind, which is totally speech enabled, but I would never use it on its own as it isn't accurate enough.
For the foreseeable future I can't imagine working without my dog.
Related Internet Links
The BBC is not responsible for the content of external sites.