Scottish parents 'face higher nursery bills'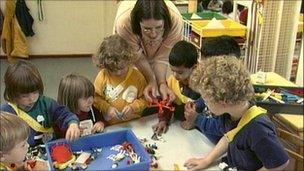 Nursery care in Scotland is more expensive than other parts of Britain, according to the Daycare Trust.
The campaigning charity has found typical annual costs for 25 hours per week of nursery care come to an average of £5,178.
In England, the average cost is about £150 less, and in Wales, £450 less.
The survey, which drew responses from half of Scotland's councils, found the only English regions with higher costs were London and the south-east.
Childminding bills in Scotland were found to be very slightly lower than the rest of Britain. The average bill for a 25-hour week came to £4,664 per child.
Charges for out-of-school clubs, at an average £50 per week, were higher than any other part of Britain, including London and the south-east.
The Daycare Trust said costs were rising, particularly for childminding. Since its 2009 survey, minding a child aged under two has risen 7%, and more than 8% for those above two.
Commenting on the survey, Anand Shukla, acting chief executive of the Daycare Trust, said: "When parents in Scotland sit down to calculate their family finances and see they are faced with the highest national childcare cost in Britain, it is no wonder they may think twice about the economic sense of staying in work.
"These high, rapidly rising costs are particularly significant given the number of people not receiving cost of living pay increases this year, the increase in VAT, and rising costs of other household goods, particularly food and fuel".
The charity has criticised the UK Government for planning to reduce the level of childcare tax credits for lower-income families, and it has put pressure on local authorities to prioritise early years and childcare services when finalising their budget decisions.
A Scottish government spokeswoman said it was committed to helping parents access affordable and flexible childcare, and it had increased nursery provision for three and four year olds by 20%.
She added: "The impact of UK government changes to benefits will certainly have an impact on working families in Scotland.
"Benefits are a reserved issue but we will continue to work with our UK counterparts to get a fair deal for Scotland."
The Daycare Trust's research was carried out in November. Of the 30 Scottish councils contacted, 15 responded to the survey, providing information about private and council-run nurseries (some which offer subsidised places), childminders and out-of-school care.
Related Internet Links
The BBC is not responsible for the content of external sites.