D-day for Scottish council budgets
By Jamie McIvor
BBC Scotland local government correspondent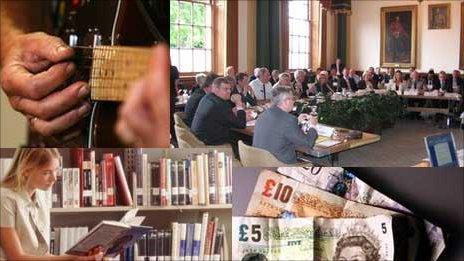 Two-thirds of Scotland's 32 councils are setting their budget for the coming year.
The Scottish government is cutting the amount it gives councils by an average of 2.6%, which it argues is the best deal possible given current conditions.
The exact amount though varies from authority to authority.
All councils agreed to freeze the council tax rate for the fourth year running in order to avoid the penalty of a bigger cut in central funding.
It could be termed "Super Thursday" but it is highly unlikely that anyone in local government would want to use that particular adjective.
The term alludes to the primary elections in each state as the Democrats and Republicans begin the process to choose their presidential candidates.
These elections take place in different states on different days - but, traditionally, many elections take place on one day which is dubbed Super Tuesday.
Scottish council budget meetings certainly do not have any of that razzmatazz but there is a similarity.
While councils have been agreeing their budgets for the coming financial year since January, the bulk will meet on Thursday.
The financial outlook facing them all is bleak.
As a general rule, councils get about 80p of every pound they spend from the Scottish government, while most of the rest comes from the council tax.
The Scottish government is cutting the amount it gives councils by an average of 2.6% but the exact amount varies as central government money is distributed to councils through a complicated formula which takes account of several different factors about the area's population.
Raising the council tax is not an option.
Any council that wanted to do this would have seen a bigger cut in central funding.
Councils are under a legal obligation to produce balanced budgets. That means tough choices on local services.
The biggest cost councils can control is the cost of labour.
So far, it looks like councils will cut at least 13,500 jobs over the next few years - some more quickly than others.
The final total is likely to be even higher as some authorities have not given target numbers.
As a general rule, councils are hoping to achieve these cuts through natural turnover, early retirement and voluntary redundancies.
However, some authorities have already given workers notice that their current jobs are at risk of redundancy although it is possible that the people affected may be found other roles.
Aberdeen Council had threatened 900 compulsory redundancies but is now seeking to find volunteers - however it is possible that compulsory redundancies may still happen in the future.
Various themes are emerging nationally as councils seek to balance the books. A combination of cuts in jobs or services and introducing or raising charges.
Rows over, for instance, school closures will run on in many communities.
But the bigger question is who unhappy voters will blame for unpopular decisions.
Will they blame councillors, who may argue they are doing the best for their area within the financial constraints they face?
Will they blame the Scottish government, which would argue it is doing the best it can for councils within the financial constraints it faces?
Will they blame the Westminster government, which gives Holyrood its cash and which would argue that cutting the deficit is urgent?
Or might they say there is a need for a bigger discussion about just what services the state itself needs to provide?
Some argue there needs to be a bigger debate about local services.
For instance, the Scottish Council for Voluntary Organisations argues that public services are not necessarily provided by the public sector and points to the role of charities and volunteers.
Often these groups receive some local authority funding and there is a concern that this money could be an easy target as authorities try to protect the services they provide directly from the worst of the cuts.
Either way, controversial decisions will be taken by councillors who will be all too aware that they will be facing re-election in May next year and that the Scottish election campaign is just weeks away.
Related Internet Links
The BBC is not responsible for the content of external sites.