Salmond prefers minority rule to a coalition government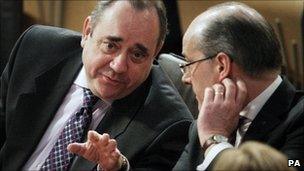 Alex Salmond would prefer to lead another minority government rather than enter into a coalition deal if this May's Holyrood elections result in a hung parliament.
Speaking on Newsnight Scotland, the first minister said he would not rule out joining a coalition but that would not be his first choice.
He said he felt his minority government had "proved itself".
"I think a minority government has been good for Scotland," he said.
"Obviously my overall preference would be to win an absolute majority," he added. "And I'd like to have a majority of more than one over leading opponents.
"Am I ruling out a coalition? No I am not ruling out a coalition but if we don't get an overall majority I think a minority government."
Mr Salmond also told the programme his "big idea" for the future was to make Scotland a powerhouse of the world's marine energy industry.
Related Internet Links
The BBC is not responsible for the content of external sites.