Weir Group Iraq cash to fund humanitarian projects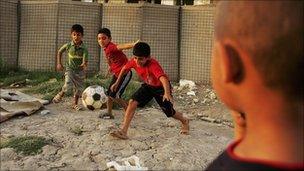 Cash confiscated from one of Scotland's largest companies after it admitted breaching UN sanctions in Iraq is being sent back to the country.
The Scottish government said £1.5m taken from the Glasgow-based Weir Group would go to fund humanitarian projects.
A £13.9m confiscation order was made against the engineering firm after it admitting paying kickbacks to Saddam Hussein's regime for contracts.
The remaining £12.4m will be used to fund community projects in Scotland.
The £13.9m was seized from Weir Group under the Proceeds of Crime Act for breaching the Oil for Food programme between 2000 and 2002.
The programme was introduced by the UN to enable exports of Iraqi oil to take place, provided the cash was used for food, medicine and other humanitarian needs.
Scotland's Culture and External Affairs Minister Fiona Hyslop said the confiscated money would be spent on various projects including human rights work, water development, and bringing the country's youth orchestra to the Edinburgh Festival.
The minister said a donation of £100,000 was also being made to the Linda Norgrove Foundation in Afghanistan to support women and children rural areas.
Ms Hyslop said: "The confiscation of cash from the Weir Group sent the clear message that illegal activity by Scottish firms will not be tolerated here or abroad.
"It is entirely appropriate that some of those funds are now channelled back to help improve the lives of Iraqi people."
Mark Chadwick, of Edinburgh-based Mercy Corps (part of the UK NGO Iraq Advocacy Group), said the money was particularly welcome as the humanitarian needs of Iraqis seemed to be slipping off the international agenda.
He added: "We know from our work on the ground that the people of Iraq still need a great deal of help and there's a lot yet to be done to improve their government's ability to deliver essential public services in an efficient and transparent way.
"This decision from the Scottish government will help to address these needs through building the capacity of local people to tackle the many challenges they face."
Since its creation following the death of the aid worker, the Linda Norgrove Foundation has raised £270,000.
Ms Norgrove's parents John and Lorna Norgrove said the money would be used to help the people of Afghanistan, now considered among the poorest in the world.
They added: "We are determined to put this money to good use and to ensure that our costs are kept to a bare minimum so that funds get through to the people on the ground."
Related Internet Links
The BBC is not responsible for the content of external sites.