Council bus lanes plan could raise extra funds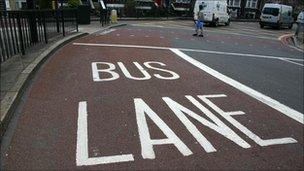 Several Scottish councils could be in line for a financial windfall if, as expected, they are granted new powers to enforce bus lane restrictions.
A decision by Transport Scotland on decriminalising bus lane offences is expected soon.
The agency is considering the move after being approached by Edinburgh, Glasgow and Aberdeen councils.
Glasgow alone expects to raise £250,000 through fines next year, if the change is approved.
Currently, revenue raised from bus lane penalties goes to central government rather than local authorities.
City councils said they were awaiting the outcome of a consultation exercise by Transport Scotland with interest.
In a statement, the agency indicated a decision was imminent.
It read: "This detailed and complex assessment of the consultation responses is nearing completion, and a decision on the required regulations will be made in the near future."
Glasgow City Council has already approved in principle taking over camera enforcement in bus lanes in the next financial year.
Its budget states: "Legislation will soon be in place to allow a small number of local authorities, including Glasgow, to take responsibility for enforcement of moving traffic offences in bus lanes.
"Although the main purpose of enforcing bus lanes is to ease congestion and improve the service offered to passengers, it is estimated penalties will generate revenue of around £250,000 after operating costs."
Last year, Strathclyde Police issued 3,455 fixed penalty notices for bus lane infringements in the Glasgow area.
Meanwhile, Edinburgh City Council has launched a tender for five portable cameras in the expectation that Transport Scotland will approve the change.
The authority said the cameras would allow the city to enforce "known problem sites" more efficiently while freeing up police resources. It expects to break even on the expected initial £293,000 capital cost of the cameras within a few years.
Lothian and Borders Police issued 613 fixed penalty notices for bus lane offences last year.
Last year in Aberdeen, 108 fixed penalty notices were given out by police officers who witnessed bus lane offences.
But no notices were issued to motorists for offences captured by bus lane cameras.
Aberdeen City Council said it had approached the Scottish government several years ago to ask for powers to be handed over.
A spokesman said: "Currently it is a police enforcement matter. Police do not have the capacity to police it as effectively as it might be. We await the government's decision with interest."
Ch Insp Ian Wallace, head of roads policing in Grampian, said: "The process of decriminalising bus lane offences in Aberdeen city is still ongoing and is meantime being considered by the Scottish government.
"Drivers must realise, however, that until decriminalisation occurs, the police will continue to take action against offenders should they see them during patrols."
He added: "Depending on the particular circumstances, this may vary from a warning to issuing a non-endorsable conditional offer of fixed penalty."
The RAC Foundation said it had concerns over the amount of money Glasgow City Council expected to generate.
Foundation spokesman Philip Gomm said: "Rather than rubbing their hands in glee, council officials should be asking why they anticipate such a large sum of money being raised.
"Few drivers set out to break the rules and risk running up fines. Glasgow Council should ensure the regulations will be both fair and transparent to motorists."
He added: "The best system would be one where no driver was penalised and the council didn't have to spend time and money operating it. Certainly it should not be seen as a way of shoring up council finances."
Related Internet Links
The BBC is not responsible for the content of external sites.