Royal Society praises Scots education system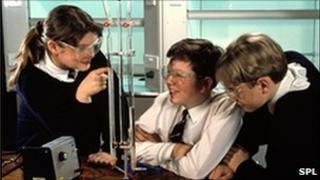 The UK's national academy of science has called for authorities south of the border to "emulate successes" in the Scottish education system.
A report by The Royal Society found almost twice as many students aged between 16 and 19 studied science in Scotland than England or Wales.
It also suggested a higher proportion of students in Scotland took science subjects in combination with maths.
It added lessons should be learnt from the Scottish pre-university system.
Almost half of students aged between 16 and 19 took Higher science in 2009, according to the society's State of the Nation report, which drew on government figures.
This was much higher than England, where 27.7% of pupils took the equivalent A-level science. In Wales, the figure was 26.6%.
The Royal Society said that as Scottish students tended to take five subjects at Higher level, they had more choice and flexibility than A-levels, where the tendency was to do three subjects.
More of them were therefore likely to take the two sciences normally required for entry onto STEM (science, technology, engineering and mathematics) degree courses at university.
The report suggested the A-level system in England be reformed to bring the system into closer alignment with the Scottish one, with a wider range and increased number of subjects.
Prof Dame Athene Donald, chairwoman of the Royal Society education committee, said: "We need to identify the factors that make the Scottish education system so successful in encouraging the uptake of science subjects in order to inspire the next generation of students to commit to scientific study from school to university."
At the start of this academic year, the Scottish government introduced the Curriculum for Excellence, aimed at giving teachers more freedom and make lessons less prescriptive for children between the ages of three and 18.
However, teachers' leaders have said they have serious concerns about the ability of schools to bring in the curriculum and prepare pupils for new national exams planned for 2013.
'Breadth needed'
The Royal Society said whatever changes were made to the Scottish education system, it should continue to give students the breadth needed to study science and mathematics alongside other subjects.
It suggested that intermediates, which it said had proven effective in helping to maximise the number of students progressing to Scottish Highers, be replaced by a similar option.
Prof Donald added: "The current reforms by the Scottish government need to be carefully considered to ensure that they will not have a negative impact on the success the education system has seen in encouraging post-16 participation in science.
"It would be potentially damaging to Scottish science if the intermediate qualifications were removed and no replacement was found for them, as this could severely limit progression to STEM higher education."
Education Secretary Mike Russell welcomed the Royal Society's findings.
He said: "Curriculum for Excellence is encouraging new and innovative ways of teaching and I've already seen evidence of this encouraging more pupils to study science.
"Work to develop the new qualifications is currently being progressed by the SQA, who will be working with stakeholders as this is taken forward."