Third of Scotland's roads in 'unacceptable condition'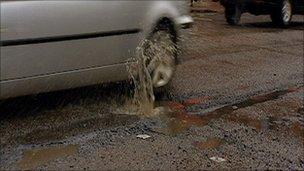 More than a third of Scotland's roads are in an unacceptable condition while the maintenance backlog for repairs now runs to £2.25bn, a report has found.
Audit Scotland said the condition of roads was worsening, despite an overall rise in spending on maintenance.
Its report also said the public were increasingly dissatisfied with the condition of Scotland's roads.
It called on the Scottish government to consider a national review of how the road network is managed and maintained.
The report, which examines progress on the implementation of recommendations made in a previous audit in 2004, found only 63% of the country's roads were in an acceptable condition.
Robert Black, Auditor General for Scotland, said: "Members of the public are increasingly dissatisfied with the condition of our roads. The pattern of spending and scale of backlog means that the value of these public assets is not being sustained.
"But by deferring essential expenditure on infrastructure, public bodies are storing up problems for the future and passing a greater burden onto generations to come."
The cost of the maintenance backlog has increased by £1bn to £2.25bn since 2004.
In 2009/10, £654m was spent on maintaining trunk and local roads, which represents an increase of £32m on spending in 2004/05.
Transport Scotland, which has responsibility for trunk roads such as motorways, said it would fully consider the report's findings.
A spokesperson said: "Although it looks at the condition of trunk roads and the effects of construction inflation on available budgets, we welcome that it highlights much of the progress which Transport Scotland has made in how it efficiently and sustainably manages the trunk road network and gets better value from available budgets.
"The Scottish government is providing local government in Scotland with significant levels of funding and local authorities have the freedom and flexibility to allocate the total resources available to them based on local needs and priorities, including road improvements."
Audit Scotland said key routes should be prioritised and services may need to be redesigned, and suggested there may be room for more flexibility in how staff and machinery are deployed.
Unexpected severe winter weather in 2009/10 put further pressure on councils' winter maintenance budgets, while over the past five years local authorities have spent £5m on compensation payments to drivers whose vehicles were damaged by defects.
Pat Watters, president of local authority group Cosla, said: "As sad and regrettable as it is, the bottom line is that the state of Scotland's roads is a long-term problem that requires a long-term funding solution.
"Where we agree with Audit Scotland is that perhaps now is the time for all those involved to sit down and actively and realistically review the situation and what options are available to us - but at the end of the day, as the report makes clear, this will take hundreds of millions to fix."
Scottish Labour transport spokesman Charlie Gordon said he supported the recommendation of a national review of how Scotland's road network is handled.
He added: "Audit Scotland's view that the public is increasingly dissatisfied with the state Scotland's roads are in is also spot on."
Scottish Liberal Democrat transport spokeswoman Alison McInnes said the Scottish government had been "complacent" in not budgeting for the severe weather's impact on the roads.
She added: "The transport minister needs to consider the implications of this report."
Scottish Conservative transport spokesman Jackson Carlaw said: "We have long passed the point where Scotland's road network can be saved by a little bit of pot-holing. The national road network needs urgent attention, and we must be willing to consider radical solutions."
What are the roads like near you? Send photographs of the worst examples to the BBC Scotland news website at newsonlinescotland@bbc.co.uk
Please ensure when filming or photographing that you make your safety and the safety of others a priority.
Related Internet Links
The BBC is not responsible for the content of external sites.