Wendy Alexander to quit Scots parliament at election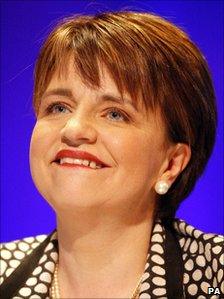 Former Scottish Labour leader and minister Wendy Alexander is quitting parliament at the election.
She has decided not to stand as an MSP in May, citing family reasons.
The mother of twins resigned as leader of Scottish Labour in 2008 amid a row over donations to her leadership campaign.
Ms Alexander has taken a key role in scrutinising plans to increase the Scottish Parliament's powers.
The Paisley North MSP said she was stepping down in order to spend more time with her family and could not commit to another term at Holyrood.
Ms Alexander also told BBC Scotland it had been a mistake for her to take on the leadership of Scottish Labour while her children were so young.
In a letter to party leader Iain Gray, Ms Alexander said she had made no future plans and it was time for her "to seek a new life, outside active politics".
She wrote: "My children turned five this week. The demands of politics mean I could miss out on them growing up.
"Many politicians have claimed they wish to 'spend more time with their family'. In my own case it is quite simply true."
She added: "I may be leaving the front line, but you can be assured of my continuing support."
A Scottish Labour spokesperson said: "Labour will now start the process to select a new candidate for the Paisley seat. We all wish Wendy the very best for the future."
Following Ms Alexander's announcement, First Minister Alex Salmond described her as "the most intellectually substantial figure in the Parliamentary Labour Party in Scotland".
Tavish Scott, the Scottish Liberal Democrat leader, said: "Wendy has made a significant contribution to devolution.
I worked with her as a minister and as a colleague in the Liberal Democrat-Labour coalition. I appreciated her intellect, her energy and her commitment to Scotland."
And Scottish Conservative leader Annabel Goldie said: "Wendy's decision will leave Holyrood the poorer.
"I won't pretend that she and I have always seen eye to eye on every issue but her enthusiasm, tenacity and intelligence are priceless assets.
"In particular her steering of the Scotland Bill Committee has been a major contribution to our democratic process."
In 2009, Mr Gray predicted a political comeback for his predecessor.
But Ms Alexander did not feature in the first major reshuffle of his front bench team at Holyrood.
Ms Alexander advised Mr Dewar during his time as secretary of state for Scotland and was part of the team which drafted the Scotland Act, paving the way for devolution.
In the first Scottish parliament, she became communities minister and later minister for enterprise.
After the 2007 election, Ms Alexander finally seized the opportunity to lead her party.
But she resigned in 2008 after failing to declare donations to her leadership campaign on her MSP's register of interest.
Ms Alexander has always insisted she acted on the written advice of the parliamentary authorities.
Related Internet Links
The BBC is not responsible for the content of external sites.