Scottish housing market shows low growth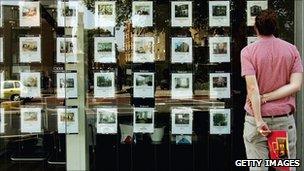 The average cost of buying a house in Scotland has risen by almost 5% on the same period last year, a report said.
But the Scottish House Price Monitor from Lloyds TSB Scotland found prices fell in the last quarter - the three months ending in January 2011.
The average cost of a home north of the border is now £162,119.
However, the report said the number of homes bought in the last quarter was 26% down on the previous quarter, and 29% below the same quarter of 2010.
The most expensive property was in Edinburgh, making an average price of £257,354, while Dundee was at the bottom of the table at £139,251.
The survey found the house price average in Aberdeen was now 6.3% above its pre-recession peak.
In addition, the cost of buying a home in Glasgow has almost returned to its high of summer 2008.
Prices fell 0.3% in the three months to January but were up 4.7% compared with the same period last year.
Donald MacRae, chief economist at Lloyds TSB Scotland, said: "The Scottish housing market has adjusted to the recession with a halving of sales and a period of volatile price movement over the last three years.
He added: "The pattern of quarterly falls followed by quarterly increases to give virtually static house prices over the year looks likely to be repeated during 2011."
Related Internet Links
The BBC is not responsible for the content of external sites.