Scottish researchers to seek cure for forgetfulness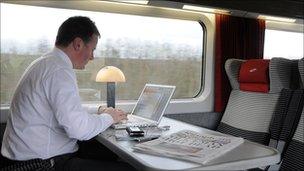 Scottish academics have launched a study in a bid to find a cure for forgetfulness.
Doctors at CPS Research said people were becoming increasingly forgetful as a result of modern hectic lifestyles and "information overload".
The condition is known in the medical world as subjective cognitive impairment (SCI).
They hope to investigate whether it could be treated with a low dose of the Alzheimer's disease drug, memantine.
The Glasgow-based researchers have labelled the condition "Busy Lifestyle Syndrome", saying forgetfulness can be caused by a hectic lifestyle and constantly being bombarded with information from mobile phones, blackberries, television, radio and the internet.
Dr Alan Wade, of CPS Research, said: "Forgetfulness is an ordinary part of getting older, but anecdotal evidence suggests that it is now affecting people earlier in life as a result of busy work and home lives and so-called 'information overload' from the various media channels we consume today.
"What we are referring to should not be confused with the serious memory loss that is often associated with early onset dementia."
He added: "This study is aimed at those who are constantly losing their keys, forgetting people's names or misplacing their glasses rather than anything more serious."
The CPS Research study will look into wider use of the drug memantine which is routinely prescribed for people living with Alzheimer's disease. It is hoped that smaller doses of the drug could help combat SCI.
CPS are seeking people across the country aged between 50 and 80, who have found themselves becoming more forgetful, to take part in a series of memory tests.
Related Internet Links
The BBC is not responsible for the content of external sites.