New HIV cases in Scotland is lowest for four years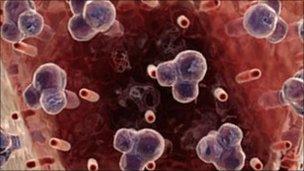 The number of new HIV cases in Scotland has fallen to its lowest level for four years.
It follows a recent downward trend, but officials said it was too early to comment if the fall would continue.
Officials estimated that about 60% of infections were acquired outside Scotland.
The last time infection rates hit a low was in 2006.
But officials are cautious about saying the spread of the infection has been ended.
They said the previous downward trend was interrupted by a spike of cases in 2007 when the figure rose to 451.
The vast majority of cases diagnosed in 2010 were the result of sexual intercourse, with the most common route of infection (38%) being heterosexual contact.
Homosexual intercourse is believed to account for 130 cases and there were 19 cases among injecting drug users, although HPS said not all of the new cases had been fully analysed.
The figures also reveal that in 2010 there were 42 deaths among HIV positive patients, 13 of them with full-blown AIDS.
But the charity HIV Scotland said increasing numbers of patients were living with the virus thanks to advances in antiretroviral treatments and a doubling of HIV testing.
It is estimated that about 3,803 people were living in Scotland with HIV, out of a total of 6,613 diagnosed since the start of the epidemic in the early 1980s.
HIV Scotland's chief executive, Roy Kilpatrick, said GPs and hospitals must take a greater role in HIV diagnosis to prevent the further spread of the infection.
He said: "The sooner someone knows that they are HIV positive the better.
"Undiagnosed HIV infection is costly, presents a risk for onward transmission, and denies individuals the benefit of early interventions to improve health and wellbeing."
He said while testing rates were improving among gay men, particularly in genito-urinary medicine (GUM) elsewhere in the NHS, the experience was more patchy.
The charity urged GPs in particular to build the skills needed to improve HIV diagnosis and care.
Related Internet Links
The BBC is not responsible for the content of external sites.