EIS union rejects changes to teachers' terms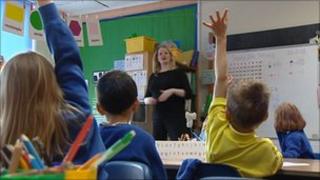 Scotland's largest teaching union has called for its members to reject a deal on changes to their pay and conditions.
The EIS said negotiations with the Scottish government and local authority body Cosla had "come to an end".
The changes included a two-year pay freeze but it was other proposals which caused the talks to break down.
The union objected to a cut in sick pay and lower pay for those who stayed on promoted salaries when their posts were abolished 10 years ago.
The EIS was also looking for guarantees on teaching numbers.
Central and local government offered to create enough posts to cut predicted mass unemployment among new teachers qualifying this summer.
Unions said they believed most of these jobs would be temporary.
The EIS will ballot its members on the proposals during March.
A spokesman for Cosla said: "All of our discussions with the trade unions to date have been designed to protect services for young people but also teacher posts as far as possible in the current financial climate.
"Indeed, the draft agreement, that is still on the table, will result in places for all probationer teachers in August 2011; sufficient posts for all probationers who qualify this summer; and a reduction in the total number of unemployed teachers.
"We believe that this offers the best possible outcome for the teaching workforce in the current financial climate."
He added: "We are under no illusions that changes to conditions are easy to agree.
"However, teachers, as with all other local government workers, cannot be divorced from the financial situation facing councils."
The EIS said certain groups within the teaching profession would see their terms and conditions eroded by "even more varying and alarming degrees".
The union said the proposals offered no firm commitments on maintaining teacher numbers.
EIS president Kay Barnett said: "These changes will have a serious and damaging impact on the teaching profession, and on the operation of schools across the country.
"The cumulative effect of these cuts will be to demoralise the teaching profession across Scotland, make teaching an unattractive option for highly qualified graduates, and damage the operation of schools and the quality of education that children receive."
She added: "There is nothing in the Scottish Government/Cosla proposal which would commend it to teachers.
"No firm guarantees on teaching jobs, no meaningful commitment to reduce teacher unemployment, no improved prospects for the many recently-qualified teachers struggling to find even temporary employment in schools.
"These proposals, if adopted, would lead to greater casualisation of the teaching profession with serious and damaging consequences for pupils."