Lib Dems aim to boost MSP numbers ahead of conference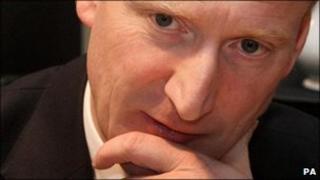 The Scottish Lib Dem conference is kicking off in Perth with a pledge to boost MSP numbers, despite challenging times for the party.
Leader Tavish Scott will outline his central aims to boost the economy and education and keep services local.
He also dismissed predictions that the Lib Dems would suffer at the polls in May, following the UK party's coalition deal with the Tories.
Deputy Prime Minister Nick Clegg will also address the two-day gathering.
Speaking ahead of the conference, Mr Scott told BBC Scotland that his election priorities centred on creating jobs, promoting economic recovery, restoring excellence in education and ensuring that vital services were delivered on a local basis.
The conference was getting under way after the Lib Dems slipped to sixth place in the Barnsley Central by-election, which was held by Labour.
Mr Scott said the result was bad, but added that by-elections came and went, insisting: "I refuse to say Barnsley is a pointer to anything."
The Scottish Liberal Democrats could be under pressure at the polls, in the wake of controversial decisions taken by the UK government, including deficit-reducing spending cuts and backing increases for student tuition fees in England.
Mr Scott, said: "The party certainly knows it's in a challenging position, but we're not frightened of that challenge.
"I think it's important to set out our stall to make sure we are distinctive from the other parties."
Mr Scott said he hoped to retain MSP numbers at 16, as well winning "a few more" seats.
Hitting out at his critics, the Shetland MSP said: "Every election I've stood in since I've been leader, I've been told we'd lose seats.
"I was told we wouldn't get an MEP - we did. I was told I'd lose half my Scottish MPs at last year's election - we didn't, we got them all back in.
"And now everyone's telling me the same's going to happen again - I just wouldn't bother getting on the plane down from Shetland if I believed all these so-called soothsayers."
The conference also features key addresses by senior Scottish Lib Dems, including Danny Alexander, chief secretary to the Treasury and Scottish Secretary Michael Moore.