MSPs press Chancellor George Osborne on fuel duty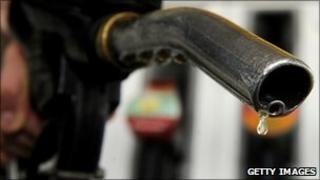 MSPs have voted to urge UK Chancellor George Osborne to help reduce fuel prices.
The Scottish Parliament backed an SNP motion calling for next month's fuel duty increase to be scrapped.
Holyrood also called on the Treasury to pass on the benefits to drivers of revenues from higher oil prices.
The request for action on fuel prices was backed by both the Lib Dems and the Tories, despite it calling on their Westminster colleagues to take action.
The SNP motion also called for a fuel duty regulator to be set up.
Labour abstained after their own proposal to reverse the recent VAT increase on fuel and pay for it using bankers bonuses failed to gain enough support.
The SNP said they were "astonished" that Labour did not vote in favour of the motion.
The Conservatives called Labour "leaderless, clueless and spineless".
Even without Labour, the SNP motion was backed by 75 to 3, with 43 abstentions.
The view of the Scottish Parliament is now clear but MSPs have no control over fuel duty, which is a matter reserved to Westminster.
It will be up to the chancellor whether he listens when he lays out his budget later this month.
Scotland's Transport Minister Keith Brown led the Holyrood debate.
His motion said April's planned rise in fuel duty by the UK government could increase prices, already at record highs, by a further 4p per litre.
During the debate Mr Brown said: "It is simply unacceptable that in an energy-rich country such as Scotland, motorists and businesses are facing some of the highest fuel prices in Europe.
"While some of the recent price increases reflect the rising oil price, this has been exacerbated by the numerous tax increases initiated by both the current UK government and its predecessor."
Mr Brown said Scottish motorists were now paying more than £2bn a year in fuel duty.
Vat increases
Scottish Lib Dem leader Tavish Scott said the whole of the UK economy was "hurting" because of the surging price of fuel.
He said: "I think that will be a matter that the UK government have to deal with in the coming budget and I hope that today in our parliament we can make clear that here are the practical measures the UK government could change in order to provide some degree of relief."
Conservative MSP Jackson Carlaw said he believed that the fuel price was "prejudicial" to the economy in Scotland and he did not feel "slavishly bound" to always endorse everything the Tory-led government at Westminster said.
Charlie Gordon, Labour's transport spokesman, said families were "hurting" from the rises in fuel prices.
His party called for a reversing of the VAT increase on fuel.
Mr Gordon said: "We are focused on practical assistance to the families that are hurting today now.
"The families out there want more than talk, they want more than broken manifesto policies.
"They want more than the impotent politics of grievance. They want lower fuel prices now."