Hen harrier decline sparks row over Scottish estates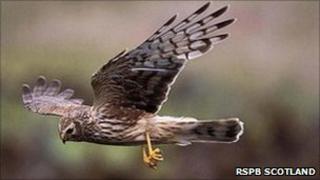 The numbers of one of Scotland's rarest birds of prey have fallen by more than a fifth, according to new research.
RSPB Scotland blamed the decline in hen harriers on illegal persecution on managed grouse moors.
But estate managers said the were being unfairly blamed for the killing of birds of prey.
MSPs will vote on the Wildlife and Natural Environment Bill later, which would make it easier to prosecute estates who kill protected birds.
It is thought there are now fewer than 500 pairs of hen harriers in Scotland, while the species is close to extinction in England.
The research from RSPB Scotland and Scottish Natural Heritage estimates hen harrier numbers in Scotland have dropped to 489 pairs, from 633 pairs in 2004.
'Systematic persecution'
The hen harrier is subject to special conservation measures under European Union and domestic conservation legislation.
Stuart Housden, director of RSPB Scotland, claimed there was "systematic and illegal persecution" in areas associated with managed grouse moor management, notably in the central and eastern Highlands and the Southern Uplands of Scotland.
"The illegal killing of these specially protected species, cannot be an acceptable part of legitimate modern day sporting practices," he added.
The Scottish Parliament is set to debate the Wildlife and Natural Environment Bill before deciding whether to pass it at its final stage.
Mr Housden urged the adoption of amendments designed to remove sporting rights from landowners where there is a history of illegal activity.
"Vicarious liability" would make landowners criminally responsible for the actions of their employees.
But rural and land management organisations accused the conservation groups of scaremongering.
The British Association for Shooting and Conservation (Scotland), the Scottish Countryside Alliance, the Scottish Gamekeepers Association, the Scottish Estates Business Group and the Scottish Rural Property and Business Association claimed the RSPB statistics were flawed.
Spokesman Tim Baynes said: "All of our organisations condemn the illegal killing of any bird of prey.
"However, the causes of hen harrier decline are many and complex and, according to the RSPB's own figures, there has only been one recorded incident of hen harrier persecution in the past six years."
The Wildlife Bill also includes plans to regulate the use of snares, which could see them banned.