Ex-minister says action needed to safeguard children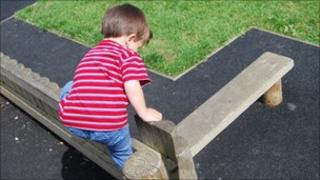 Policy makers need to spend less time analysing a child's formative years and more time acting to safeguard the youngest generation, a report has said.
The findings, produced by former Labour health minister Susan Deacon, also called for authorities to act earlier in cases where children were at risk.
Childrens Minister Adam Ingram welcomed the report and said the proposals would be considered.
Professor Deacon was appointed to undertake the study by SNP ministers.
Her report - Joining the Dots: A Better Start for Scotland's Children - also called for a new generation of children and family centres to be established across the country and for Scotland to be "more child-friendly".
She said there needed to be a "bias for action" when dealing with issues that could prevent a child reaching their potential.
The report said that in some cases "intensive support" was needed to "break the cycle of poor parenting that is blighting the lives of many of our children".
It added: "Where these efforts have been made and it is clear that the child is at risk of continued abuse or neglect, or where their home environment and parental relationship is such that the child's social and emotional development will be severely impaired, we need to act and act far more quickly than is often the case."
Prof Deacon said there was also both anecdote and evidence to suggest that aspects of Scotland's culture were adversely impacting on children.
Her report said: "For example, we have become inured to swearing and aggressive behaviour in our streets, even at the school gates, and often in our homes.
"Violence - as has been well documented - is all too prevalent and is reflected in behaviours in nurseries, classrooms and playgrounds from an early stage."
'Social change'
The study also cited Scotland's issues with alcohol for damaging relationships with children.
Prof Deacon said: "We owe it to our children, families and communities to bring about real change in childrens early years."
She added: "My proposals for action also call for much greater collaboration between sectors public, private and voluntary to help give parents and families and the support and services they need, as well as much greater partnership with parents themselves to involve them in helping to make Scotland a more child-friendly place.
"This recognises that government alone cannot bring about the social change we need to see."
Childrens Minister Adam Ingram welcomed the ideas from Prof Deacon.
He said: "She has brought forward a series of informed suggestions which will bring a refreshing new approach to this key area for government and all those who have a role to play in building a better future for Scotland's children.
"While some of the proposals were quite radical, they will all be given full and careful consideration."