Married MSPs' legislation passed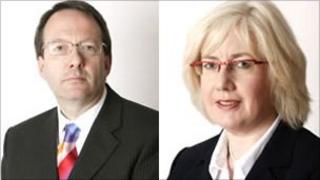 Husband-and-wife MSPs Bill Butler and Patricia Ferguson have both seen pieces of legislation they have championed given final approval on the same day.
Mr Butler's Damages Bill seeks to speed up the process of paying compensation to victims in certain cases.
And Ms Ferguson's Property Factors Bill requires property and housing estate managers to sign up to a new register.
The couple are both Labour MSPs in Glasgow and campaign on the party's left wing.
The two pieces of legislation, which have won cross-party backing, gained final approval in votes at Holyrood.
The backbench Damages Bill intends to remove the need to go to court in some cases where liability has been admitted, allowing victims' relatives to be compensated more quickly.
And it could also take away the need for courtroom debate on living expenses.
Unions had raised concern over the "terrible delay" in the award of damages in relation to the Stockline factory blast in Glasgow, which killed nine people in 2004.
Community Safety Minister Fergus Ewing gave assurances that the bill would be brought into force as quickly as possible.
Ms Ferguson's legislation will bring in a statutory scheme for the registration of property factors, a procedure to resolve disputes between consumers and their factors and a code of conduct and standards for property factors.
Her bill is expected to be enforced in October 2012.
Ms Ferguson said she was disappointed with the 18-month delay in the bill taking effect.
However, Housing Minister Alex Neil said the timescale was necessary given the volume of work required to prepare stakeholders.