MSPs call for more Holyrood power under Scotland Bill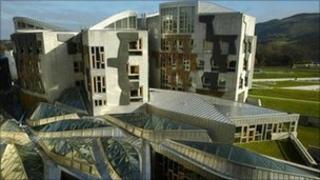 UK government plans to increase the Scottish Parliament's powers need to go much further than the proposals currently on the table, MSPs have said.
A special Holyrood committee set up to scrutinise the Scotland Bill said proposed new borrowing powers needed to be doubled, to £5bn.
The committee convener, Labour's Wendy Alexander, said Holyrood needed the ability to invest in Scotland's future.
The UK government said it would consider the recommendations.
UK ministers say the Scotland Bill, currently going through Westminster, will devolve new tax and borrowing powers worth £12bn, as well as giving control over air weapons and drink-driving and speed limits.
But, publishing the Holyrood committee's report, which contained a series of key recommendations, Ms Alexander said doubling the proposed borrowing powers or being able to issue bonds would help pay for major infrastructure projects, like the new Forth road bridge, or a large housing programme.
The MSP said: "It is more than 10 years since the Scottish Parliament was created.
"We are now taking the next steps on a journey with new financial powers and responsibilities, which will provide ministers with the tools to invest in our future and make life better for people in Scotland."
But the committee report dismissed SNP calls for full tax powers.
The Scottish government, which gets its funding through the Treasury block grant, said the bill was too limited and has called for full fiscal autonomy.
SNP MSP Brian Adam, deputy convener of the Scotland Bill committee, said the bill as it stood would fail to deliver jobs or properly increase Holyrood's accountability.
"The UK government failed to present the committee with any evidence on how their tax proposal would operate or how they would counter its damaging deflationary effects, which would significantly cut the Scottish budget," he said.
The committee also recommended doubling the proposed short-term annual borrowing limit, which would see it increased from £500m to £1bn, and devolving the aggregates levy and air passenger duty following a UK government review of the issues.
Scottish Secretary Michael Moore welcomed the report as a significant step forward, adding: "We are making real progress on bringing new powers and financial accountability to the Scottish Parliament.
"The UK government will consider the recommendations in the report carefully."