Celtic legend "Jinky" Faberge egg fetches £15,000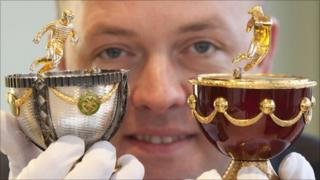 A rare Faberge egg created as a tribute to Celtic legend Jimmy "Jinky" Johnstone has fetched nearly £15,000 at auction in Glasgow.
The Jinky egg, which is one of 19 created by Faberge in 2005, was bought anonymously at McTear's Auctioneers.
The egg was sold by a pair of lifelong Celtic fans from Glasgow.
A Faberge egg commemorating George Best's role in Manchester United's 1968 European Cup win fetched £13,376 at the same auction.
Jimmy Johnstone is widely regarded as one of the best players Scotland has ever produced, and several years ago he was voted the greatest Celtic player of all time by fans of the club.
The 19 Faberge eggs - made from silver, enamel, yellow and black gold - represent the number of major medals Jinky won, including the UEFA European Cup, the Scottish league championship, the Scottish Cup and Scottish League Cup.
They were made in tribute to the Celtic legend, who died in 2006 after a long battle with motor neurone disease.
Sellers David and Pauline McGinty said the money raised would help them start a new life in a family move to Shetland.
David, 45, said: "I have supported Celtic since I was a boy and my earliest memories are of watching Jinky playing, so having the egg was just incredible.
"I thought long and hard about selling it but at the end of the day we need the funds to help us with our move to Shetland."
David also said some of the proceeds from the sale would go to a football cause close to Jinky's heart.
He explained: "Jinky's son, James Johnstone, is launching a fantastic training facility for the benefit of the children and residents of Viewpark, where Jinky and his family lived for many years.
"The family have told me that this venture is something that Jinky would very much be in favour of, and for this reason I am pleased to be making a donation to help get James's dedication to his dad up and running."
The Jinky egg, which opens to reveal a silver and gold figure of the player, was the inspiration for a series of 68 George Best eggs that were created by Faberge in 2007 to commemorate Best's part in Manchester United's 1968 European Cup success.
One of those Best eggs was also sold at the auction.
By sheer coincidence, both eggs in the sale were No 14 in their respective series.