Scots Libya worker returns home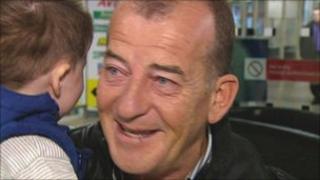 A Scottish oil worker who was trapped following the uprising in Libya against Colonel Gaddafi has returned home.
Jim Coyle's construction camp in the desert - where up to 700 workers were stranded - was surrounded by rebels, and food and water were running low.
After a week, the welding engineer from Erskine in Renfrewshire, managed to help organise a convoy of cars to leave the Amal compound.
The convoy travelled hundreds of miles to make it to the Egyptian border.
About 100 Britons were among the stranded workers.
Attempts to airlift the group had been reportedly thwarted when the runway was barricaded with tyres and an anti-aircraft battery.
Mr Coyle, who was met by his family at Glasgow Airport, said he was delighted to be home.
"I've come through so much," he said. "It's eight weeks since I've seen my family."
He said he was concerned that his fellow workers from Bangladesh who managed to escape with them were now in limbo on the Libyan Egyptian border.
"I've left a lot of good friends. Friends that protected me and everybody else with a baseball bat against insurgents."
Mr Coyle, who has worked in Libya for seven years, said he was unsure whether he would be returning to work in the country given the current situation.