Scottish blood contamination victims compensation boost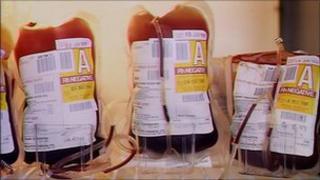 People in Scotland infected with hepatitis C from contaminated NHS blood products are to receive the same payouts as victims in England.
The Scottish government has set aside £18m over five years to help those affected by serious illness.
It will see compensation for victims suffering conditions such as liver disease double from £25,000 to £50,000.
The money is targeted at people, mainly haemophiliacs, who were infected after being treated in the 1970s.
It will also extend support to the families of those who died before 29 August 2003 as a result of receiving contaminated blood.
In addition, the changes mean that people who have developed serious illness will now be entitled to an annual payment of £12,800.
The announcement comes two months after UK Health Secretary Andrew Lansley said victims south of the border would receive extra payments.
More than 4,000 people were infected by contaminated blood in the 1970s and 80s in England. The figure is thought to stand at a few hundred for Scotland.
'Devastating impact'
Health Secretary Nicola Sturgeon said: "No amount of support can restore these people's health but I believe the measures announced today represent a considerable improvement for those who are most seriously ill or who are suffering financial hardship."
However, support groups have said that only about one in five people with hepatitis would get any payment.
Haemophilia Scotland said it welcomed the announcement but added that payments did not equate with the hardship and suffering caused.
Chief executive, Chris James added: "There is little or no provision for those living with hepatitis C who have not developed liver disease but live with the potentially devastating impact of the disease and no provision to help with access to insurance.
"We continue to ask for proper engagement by the UK government to reach an appropriate settlement for all those impacted by this terrible tragedy.
"The continued piecemeal approach is a damning indictment on the political process."