John Docherty guilty of 'sleepwalk' wife murder bid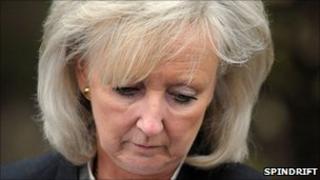 A taxi driver who claimed that he was sleepwalking when he stabbed his wife has been convicted of attempted murder.
John Docherty, 57, attacked 56-year-old Eileen at their home in Penilee, Glasgow, in December 2009, leaving her permanently scarred.
He lodged a special defence at the High Court in Glasgow claiming he was acting during the onset of somnambulism.
A jury found him guilty after a week-long trial. Judge John Beckett QC deferred sentence until next month.
The attack happened on 14 December 2009 at the couple's home in Bowfield Crescent.
The court heard how Docherty had not been himself for a number of weeks prior to the incident.
He reckoned his wife was seeing another man and began to check her mobile phone and text messages.
The father-of-two even joined her at work during one of her weekend shifts.
Went to bed
The pair eventually sought medical help and their GP later noted there was a marriage issue.
The evening before the stabbing, Docherty and his wife had gone on a night out with friends.
They returned to their home around midnight and Mrs Docherty went to bed leaving her husband downstairs.
Prosecutors said that in a drunken and jealous rage he grabbed a kitchen knife and went up to attack his wife.
It was claimed he had been obsessed that she was being unfaithful.
Mrs Docherty recalled seeing him with starey and glassy eyes at the side of their bed clutching the knife.
'Sheer panic'
She told the jury: "It all happened so very fast. I tried to get the knife from him. There was a struggle. I grabbed hold of the blade with two hands. It was just sheer panic.
"I think I was just screaming. I was on the floor and the next thing I remember was the paramedics being there. I remember them saying they were there to help."
The court heard Docherty's 999 call in which he claims there had been a mad fight. He also states his wife had told him she had been with his pal.
Mrs Docherty suffered a number of wounds to her face, neck and hands. One doctor said they were potentially life threatening.
Mrs Docherty told the trial that she still loved her husband. She added: "I basically know that he was asleep. There is no way he would have done this knowingly."
Docherty - who had a history of sleepwalking - lodged a unique special defence that he was acting during the onset of somnambulism at the time.
He claimed he had no recollection of the incident although accepted he had caused the injuries.
He also insisted that there had not been any bad feeling between him and his wife.
But, sleep expert Professor Colin Espie told the court it was highly unlikely Docherty would have been asleep at the time.
Judge John Beckett QC told the jury after the verdict that it had been an extremely difficult case involving unusual evidence.
The taxi-driver, who has been married to his wife for 37 years, now faces a lengthy jail term when he is sentenced next month.