Baby dies after infection scare at maternity unit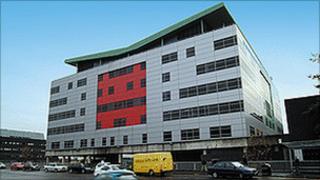 A baby has died and another child is in an isolation unit at Glasgow's Princess Royal Maternity (PRM) hospital after contracting a bloodstream infection.
NHS Greater Glasgow said eight other children at the neonatal unit had also tested positive for serratia marcescens and were being monitored.
The health authority said both the child that died and the child moved to isolation had been born prematurely.
Serratia marcescens is an organism that occurs naturally in the gut.
To have it on or in the body (colonisation) is not uncommon or harmful in healthy people.
However, in cases where people are vulnerable to infection, such as premature babies, the organism can cause serious infection.
An Outbreak Control Team has been established at the hospital.
'Colonised babies'
Lead infection control consultant, Dr Craig Williams, said: "The eight babies who are colonised are being nursed together as a cohort in one part of the neonatal unit totally separately from other patients.
"We are investigating the cases at the PRM to establish if there is any link between the cases."
NHS Greater Glasgow said serratia marcescens colonisation was also identified in two babies at the Southern General's neonatal intensive care unit who had been transferred from the PRM neonatal unit.
The authority said the babies were being nursed in isolation at the Southern and were not giving cause for concern.
Dr Williams added: "We would also expect a number of babies to be colonised with serratia marcescens, however, our trigger for screening is if a baby develops a bloodstream infection, which is why we have taken the precaution of isolating the colonised babies and creating a separate neonatal area for new admissions while we investigate the situation."
All the babies in neonatal units at both hospital have been screened and it is understood that no further babies at the Southern General have been found to be colonised with serratia marcescens and the Unit was operating as normal.