Business is Scotland's 'lifeline', says Michael Moore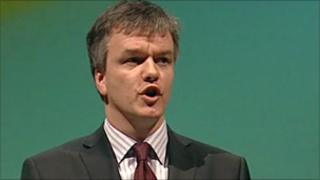 Business is Scotland's "lifeline" in the post-recession years, Scottish Secretary Michael Moore has told his party's conference.
The Lib Dem MP stressed to delegates in Perth that his party understood business in Scotland.
He said Scottish firms needed support to reinvent themselves in order to recover from the downturn and thrive.
UK Lib Dem leader and Deputy Prime Minister Nick Clegg will also make a keynote speech to delegates.
In his speech, Mr Moore said Scottish business must succeed in order to reshape the economy.
He added: "We need business to generate the wealth that will see us prosper, to create the jobs that provide security and opportunity and to raise the revenue that will pay for the public services on which we all depend.
"Business is not a bystander - business is Scotland's lifeline.
"In Scotland today, Liberal Democrats are the party that understands business."
New businesses
Mr Moore also told the conference: "Building confidence is key - creating the economic conditions to inspire that confidence is our number one priority."
The Scottish secretary said that, while some companies "haven't made it" through the recession, others had reinvented themselves and found new markets.
The UK government, he argued, was helping through corporation tax cuts, National Insurance "holidays" to help new businesses hire staff and to seek agreement with high street banks to raise lending to smaller firms by 15% next year.