Glasgow maternity hospital 'infected' babies improving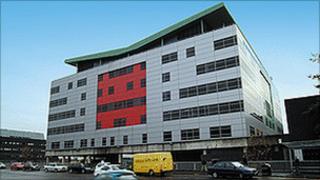 Eleven babies who tested positive for a bacterium which killed a premature baby at a Glasgow maternity hospital are said to be doing well.
A premature baby is in isolation at the Princess Royal while eight others are being monitored after testing positive for the serratia marcescens bacteria.
NHS Greater Glasgow said two other babies at the Southern General were also in isolation.
It follows the death of a baby at the Princess Royal earlier this week.
Serratia marcescens is an organism which occurs naturally in the gut.
To have it on or in the body, termed colonisation, is not uncommon or harmful in healthy people.
However, in cases where people are vulnerable to infection, such as premature babies, the organism can cause serious infection.
An outbreak control team has been established at the Princess Royal Maternity Hospital.
The health authority said all the babies in neonatal units at both hospitals had been screened for the bacteria.
Dr Craig Williams, chairman of the outbreak control team, said: "The premature baby at the neonatal unit of the Princess Royal Maternity unit in Glasgow with the serratia marcescens bloodstream infection remains in isolation but continues to improve."