Theresa Riggi's friend 'shocked' at children killings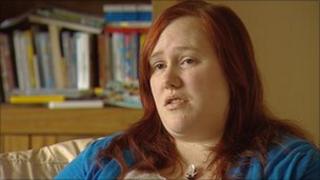 "It's just like a wall of shock, it's the only way I can describe it. It just hits you."
Amber Sebold said it was difficult to sum up how she felt the morning she was told her friend Theresa Riggi's three children had been found dead.
Riggi, 47, has pleaded guilty at the High Court in Edinburgh to a charge of culpable homicide on the grounds of diminished responsibility.
Mrs Sebold explained how she learned of the children's deaths on 4 August last year: "My husband called me that morning. He gets to work quite early so the kids and I had just woken up.
"He had seen it in the paper as soon as he got to work. He didn't want me to hear it from anybody else or see it myself online so he called me to tell me.
"I just, I can't even describe [how it felt] because you don't know how it will feel unless you ever have to go through something like that, which, thank god, most people don't."
Mrs Sebold spent time with Riggi and her children in Aberdeenshire in the years before they died.
Shortly before the killings, Riggi and the three youngsters moved from Skene in Aberdeenshire to Edinburgh.
Mrs Sebold had met Riggi through a home schooling group and their children were of similar ages. Both women were also married to Americans.
The young mother occasionally babysat eight-year-old twins Austin and Luke and five-year-old Cecilia and shared family days with the Riggi family.
She said Riggi had been very stressed during her divorce to husband Pasquale and told the BBC she had driven her to a court hearing in Edinburgh on 4 March 2010.
The last time she saw the family was in June, when her children and the Riggi youngsters had talked of their birthday plans for August.
Riggi's children were found dead on 4 August, in a property on Slateford Road in Edinburgh.
Mrs Sebold said: "She always seemed very together. They were always immaculately dressed, very well cared for. She clearly loved them very much, that was never in question.
"I did call her a friend but I wouldn't say we were incredibly close and so towards the end I was seeing less of her. She always seemed really stressed out when I saw her with the divorce.
"I can only imagine it was quite a stressful thing to go through for everybody, so I just thought she needed a bit of space and when I didn't hear back from her when I texted her, I didn't think too much of it at the time."
Mrs Sebold said the Riggi children were happy in the period before their deaths.
She said: "Austin and Luke were obsessed with dinosaurs.
"When I babysat them down in Edinburgh, we had to watch their favourite movie, which was Night at the Museum, with the dinosaur skeleton in it and that sort of thing.
"They said they were going to be palaeontologists when they grew up."
Mrs Sebold said the nature of the children's death had been the most difficult aspect of the case.
She said: "I don't know if I can really describe it because if they had died in a car crash, that would have been different.
"Because of the circumstances, it's just something that you can't get your head around at all.
"It didn't need to happen, it could have been prevented so it's that extra layer of tragedy."
Mrs Sebold said her own daughter had said she intended to marry one of the Riggi twins when she grew up.
"Obviously that's a five or six year old talking but it's the whole future that they would have had and my kids might have played some part if they'd stayed friends," she said.
"It's a lot to take in and I don't think I'll ever get over it."
She had met the Riggi family a couple of times - once at a birthday party and then at a communion, when Pasquale was present.
Mrs Sebold said she felt angry at the media's perception of the children's father and the way he had dealt with their death.
Whole picture
She said: "I've heard a lot of comments that Pasquale seems so cold and that something isn't right there, or implying that he had something to do with it or that he drove her to do that.
"It's easy to judge when you don't know the people but I just wish people would take a bit of a step back and realise that they don't know the whole picture.
"The only other thing I'd like to say is that you never know how you're going to react until you're in this situation."
Mrs Sebold said that she had no indication that Riggi was planning to do anything extreme to her children.
She said: "The last time we saw them, Cecilia's birthday is in August as well as my sons, and we talked about their birthday parties and Cecilia gave out blank birthday invitations to my kids because she was so excited about her birthday even though they didn't know what they were going to do.
"Certainly at that point I had no idea that she was planning to go anywhere or try and disappear.
"When I heard on the radio [that she had gone missing] I was really surprised because I had texted her and not heard back but that wasn't entirely unusual so I just thought she was busy and things."