£1.5m seized crime cash to fight Scotland's 'Mr Bigs'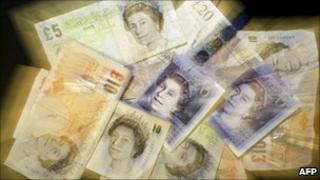 Money taken from a Glasgow-based engineering firm is to be used to fight organised crime in Scotland.
The Scottish government said £1.5m confiscated from Weir Group after it admitted breaching UN sanctions in Iraq would target crime's "Mr Bigs".
The money, seized under the Proceeds of Crime Act, will be made available to law enforcers and the Crown Office.
A £13.9m order was made against Weir Group after it admitting paying Saddam Hussein's regime for contracts.
It is the latest distribution of the cash taken from the firm, which was fined at the High Court in Edinburgh in December.
Scotland's Justice Secretary Kenny MacAskill said about £24m had already been recovered this year through Proceeds of Crime legislation.
'Much harm'
He added: "I am pleased to announce that I am making £1.5m of that recovered cash available to our police and prosecutors to help them tighten the screw further on the thugs and gangsters who profit from the misery they bring to communities.
"These resources will be used by the agencies to maximise the benefits of the proceeds of crime legislation and take out the serious organised crime groups who bring so much harm to our communities."
Mr MacAskill made the announcement ahead of a visit to Gartcosh, where Scotland's first crime campus is being set up.
It is due to open in 2012 and will house the Scottish Intelligence Co-ordination Unit (SICU) who will act as the "brain" of law enforcement in Scotland, bringing together intelligence and finance specialists.
However, Scottish Labour's justice spokesman Richard Baker said using seized cash to fund the fight against crime was his party's idea.
He added: "Whilst we support using some cash-back money for policing schemes, this is nothing more than blatant hypocrisy from Kenny MacAskill."