Report suggests Moray Firth rocks 'could store carbon'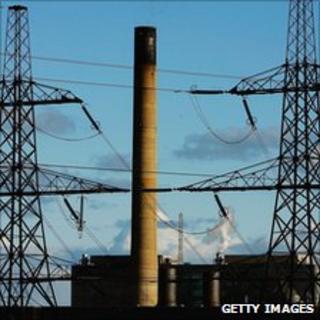 Scientists believe rocks deep beneath the Moray Firth could be used to store carbon dioxide produced by Scottish coal and gas fired power stations.
A new report from Scottish Carbon Capture and Storage (SCCS) said up to 100 years worth of CO2 could be stored.
The study also suggests the wider carbon capture industry could create at least 13,000 new Scottish jobs by 2020.
However, the Green Party said the "unproven technology" should not be used to justify new coal power plants.
The party's leader at Holyrood, Patrick Harvie, said: "Carbon capture and storage remains an unproven technology, yet to be demonstrated anywhere in the world, and research published last year suggests it 'cannot be made feasible at any cost'.
"With such question marks over the whole idea, SNP ministers should not be predicting job numbers drawn up on the back of a fag packet."
However, WWF Scotland said it accepted carbon capture and storage had a vital role to play in reducing greenhouse gas emissions in the years ahead.
Redundant oil and gas wells under the North Sea have already been identified as potential stores of CO2.
'Landmark moment'
Using rock formations beneath the Moray Firth and the job creation estimate are among key findings of the new report, Progressing Scotland's CO2 Storage Opportunities.
SCCS said rock, known as Captain Sandstone, buried more than half a mile beneath the Moray Firth could store at least 15 years to up to a century's worth of CO2 output from Scotland's power industry.
The system involves carbon displacing the sea water in the porous rock.
Prof Eric Mackay, of SCCS, said: "This is an exciting and landmark moment in the development of carbon capture and storage.
"The Captain Sandstone is just one of many rock formations filled with salt water in the central and northern North Sea.
"We have shown that this is a feasible site that could store massive amounts of CO2, helping the UK meet its targets for carbon emissions reduction.
"The future potential for this and other areas of the North Sea is immense."
The SCCS research was funded by the Scottish government and a group of businesses within the energy sector.
Energy Minister Jim Mather said Scotland had to "move swiftly to seize the environmental benefits and economic opportunities" of carbon capture and storage.
He said: "In depleted oil and gas fields and in its natural geology, the North Sea has an amazing carbon storage potential - the largest offshore storage capacity in Europe."
Dr Richard Dixon, director of WWF Scotland, said: "It's something which will help us and other countries use fossil fuels in a slightly less damaging way while we move towards 100% renewables. That's the big prize.
"Carbon capture and storage is important on the way. It's worth doing as long as we don't lose site of the renewables goal."