SNP plans university legislation if re-elected in May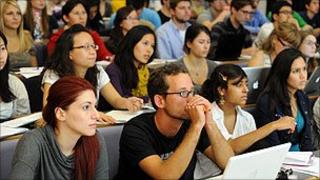 The SNP government is planning swift legislation on the future of Scotland's universities if it is returned to power in May's election.
BBC Scotland understands the party will include new proposals on student support and how the sector is run.
It comes as a BBC Scotland investigation found there had been a sharp upward trend in student hardship.
The number of students asking for emergency help has increased by almost 40% in five years.
Last year more than 13,000 students got more than £9m in financial assistance from the hardship fund.
Now that most mainstream parties have pledged not to introduce tuition fees in Scotland, attention is shifting to the long-term shape of higher education.
Education Secretary Mike Russell intends to introduce legislation in the next session of parliament, if the SNP retain power at Holyrood.
He will reveal details to MSPs later this week, but it is understood the proposals will cover areas like governance, access for people from less well-off backgrounds - and financial support for students.
SNP leader Alex Salmond told BBC Scotland "significant" additional financial support for students had been introduced already.
The first minister said: "One of the reasons that the statistics on financial support are rising is because there is now something to apply for."
Mr Salmond added: "There are areas where we have to update the legislative environment of our universities to enable them to gather in additional revenue from a range of sources without inhibition so we can meet these new spending environments."
The SNP leader repeated his pledge that his party would not introduce tuition fees if it was re-elected in May.
He said: "We believe we can invest in our education system without burdening students with generations of debt.
"We are holding out for the Scottish tradition of free education."
Kenneth Macdonald presents his BBC Scotland investigation - The Graduation Game - on Monday 14 March at 1930 GMT on BBC1 Scotland.