Thousands of Scots join anti-cuts march in London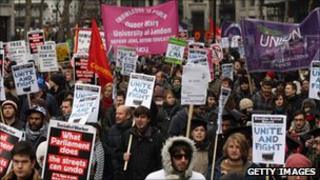 Thousands of protesters from Scotland have taken part in a rally in London against UK government cuts.
The Scottish Trades Union Congress (STUC) chartered three trains and more than 20 buses to join in with crowds estimated at more than 250,000 people.
Saturday's march and rally was billed as the biggest union-organised event for more than 20 years.
It is also the largest protest in Britain since the anti-war march in 2003.
Dave Moxham, deputy general secretary of the STUC, who travelled from Scotland, said: "A couple of thousand Scots marched into Hyde Park.
"I've just walked back along the route of the march and people are still coming. It's absolutely enormous.
"There must be 10,000 Scots here. Three trains and around 30 to 40 buses arrived this morning with people from Scotland.
"It also seems tickets on other trains from Scotland could not be had for love nor money this morning."
Prison protest
He added: "I've heard there's been a couple of small pockets of trouble but the atmosphere on the march today has been family friendly and really good."
In Glasgow, about 100 prison officers protested outside Barlinnie Prison.
Pat Bennett, branch official from the Prison Officers Association, said: "This rally was called for those who couldn't make it down to London.
"We are fighting against proposed cuts, especially the attacks on our pensions."