Scottish election: Margo MacDonald sets out stall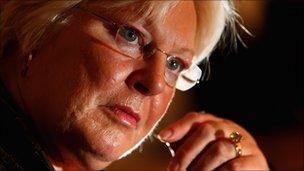 Veteran Scottish politician Margo MacDonald has laid out her stall as she bids to be re-elected to parliament.
The former PE teacher, who is standing as an independent for the Lothians, said she would try again to introduce assisted dying legislation after a failed attempt in the last parliament.
Ms MacDonald also wants to see pensioners given more of a voice.
And she would like to see profits made by public private partnership (PPP) companies in Scotland re-evaluated.
Speaking to BBC Radio Scotland's Good Morning Scotland programme, Ms MacDonald - who has Parkinson's disease - said she would continue to push for legislation on assisted dying, despite seeing her End of Life Assistance Bill defeated by 85 votes to 16 (with two abstentions) last year.
She said she was sure she would be able to demonstrate public support for the measure this time around, if elected.
Ms MacDonald, whose name appears on the Lothian regions candidates' list, continued: "I was sure I had public support last time but my colleagues - MSPs - in all parties were not sure of that, or else they were afraid to go into an election with - they thought - such a controversial vote behind them.
"This time if I am elected, I prove two things. Firstly, there is public support for the idea - even to be properly investigated - and secondly, that you can hold a controversial opinion and still be elected because people, they are likely to vote for you in the round."
Ms MacDonald said if she was returned to Holyrood she would also like to see pensioners get their day in parliament.
She explained: "I want a Day for Pensioners, for example - we have got [a Day for Business] in the parliament and it has proved very successful for business to share ideas and let parliamentarians know exactly what it is they want and need. I think that pensioners should do that as well."
Ms MacDonald would also like to see PPP contracts renegotiated in order to claw back some of the profits made by some contractors.
Ms MacDonald added: "I would like to make sure that there is a proper re-evaluation of the profits made by the PPP companies - I think they are absolutely scandalous and I am not convinced that any of the parties either here or at Westminster have properly investigated how these contracts could be re-negotiated."
The former PE teacher also stressed her experience in working with others and on her own in parliament and said independent politicians could make a difference.
She said: "I have also had the experience of working as a sole person, and sometimes my vote was the swing vote, which meant that - to put it in a political way - [former Scottish finance secretary] John Swinney had to sook up me. And sometimes [former Scottish health minister] Andy Kerr had too.
"But when Andy Kerr was the minister for health, I had a very good working relationship with him in the parliament before last and I had a good working relationship with John Swinney.
"And I wouldn't have voted for the SNP if I had really disagreed with the particular policy that was the issue, even if I had got something for Edinburgh or the Lothians out of it.
"So, in that way an independent can bring another perspective very often to the way the government is thinking."
Citing her achievements in the last parliament, Ms MacDonald said she had helped Edinburgh secure a "capital city supplement" from the Scottish government to help it meet the additional costs of being Scotland's capital.
She also said she had helped Midlothian Council secure an extra £400,000 to help develop the national ski slope at Hillend.
Asked if her emphasis was on local issues, she responded: "That is the only mandate that I have. It is people in the Lothians who elected me and they are the people to whom I am responsible.
"So, I try to bear in mind that I am not there to do down the rest of the country but I am there to represent the best interests of Edinburgh and Lothian."