Celtic player Anthony Stokes' relatives released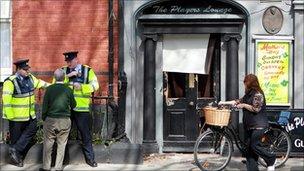 The parents and uncle of Celtic star Anthony Stokes have been released from police custody without charge after they were arrested in Ireland.
The three were detained by detectives on Friday after ammunition was uncovered at Mr Stokes' parents' pub Players Lounge pub in north Dublin.
Gardai confirmed that Paul Byrne, 46, who is an uncle of the footballer, had been released without charge.
The player's father and mother have also been released without charge.
Police said a file would be prepared for the Director of Public Prosecutions.
More than 100 Garda officers were involved in a wave of early morning searches in north Dublin as part of an inquiry into a bloody row between dissident republicans and organised criminals.
It is understood John Stokes, 54, the player's father, was arrested at the pub after a team of Garda officers smashed their way in through a side door.
A handful of bullets found in a shed at the back of the pub were taken away for ballistic tests.
Cocaine with a street value of about 500 euro (£438), along with three stun guns, were also found on the premises.
His wife - and mother of the young striker - Joan Stokes, 55, was also arrested at the time.
Last month, John Stokes was ordered to remove a 40ft banner which stated the Queen was not welcome at his pub in Fairview, north Dublin, during her forthcoming state visit.