Icelandic banks still owe Scottish councils £40m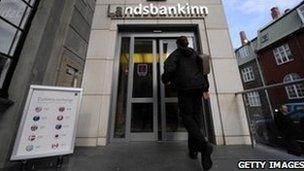 Scottish councils are still owed nearly £40m following the Icelandic banking system collapse in 2008, it has emerged.
Icelanders rejected the latest plan to repay the UK and Netherlands some 4bn euros lost in the collapse.
Eight Scottish councils had a total of £46.5m invested in Landsbanki and Glitnir and several UK subsidiaries.
So far they have recovered almost £6.9m from the UK arms of two of the collapsed Icelandic banks.
Hopes of recovering at least some of the outstanding money rose earlier this month when an Icelandic court granted councils priority creditor status.
The decision meant about 90 councils in the UK, including affected authorities in Scotland, would be at the front of the queue for any reimbursement.
However, the picture became more complicated at the weekend when Icelanders rejected in a referendum a negotiated settlement to reimburse the UK.
North Ayrshire Council, which is owed the largest amount of money in Scotland, said it was waiting to get back £15m.
South Ayrshire Council said it was still owed £5m, Moray Council £2m, East Ayrshire Council £2.4m, East Renfrewshire Council £1m and Perth and Kinross Council about £1m.
Scottish Borders Council, which had a total of about £10m invested in the Heritable and Landsbanki banks before the banking collapse, has so far received £2.52m - or just over 50% - of its claim from Landsbanki's UK subsidiary, Heritable.
South Lanarkshire Council has also recovered half of its £2.5m exposure to Heritable but is still owed £5m by Landsbanki.
And East Ayrshire Council has recouped just over half of the £5m it had invested with Heritable and Kaupthing Singer and Friedlander (KSF), both of which are subject to UK law.
The figures emerged as the UK government signalled it was set to resort to legal action to recoup billions of pounds paid out to cover the deposits of British savers in collapsed Icelandic banks.
A negotiated settlement to reimburse the UK was rejected for a second time by Icelanders in a referendum at the weekend, a result which the Chief Secretary to the Treasury, Danny Alexander, described as "disappointing".
Mr Alexander told BBC1's Andrew Marr Show: "It looks like this process will now end up in the courts.
"There is a legal process going on and we will carry on through these processes to try and make sure we do get back the money that the British government paid out in past years."
Pat Watters, president of local authority body Cosla, told BBC Scotland's news website that councils would continue to push to get their money back.
He said: "This is a tremendous amount of money. We have to continue to pursue this, using any avenue we can.
"Doing nothing will not get us anywhere. We would be happy to support any measures that will see us getting any return on the money that is owed to us."
Related Internet Links
The BBC is not responsible for the content of external sites.