Scottish election: Respect Coalition Against Cuts profile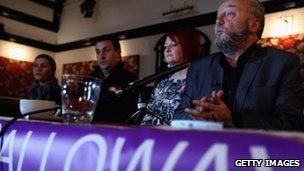 The Respect Party was born out the movement against the Iraq war.
It was founded by George Galloway and others not long after nearly one million people marched through the streets of London in protest against the conflict.
Originally named "Respect - The Unity Coalition", the party attracted the support of a number of organisations and activists in the anti-war and labour movements.
It stood for the first time in the European elections in 2004, just months after it was formed.
Across England and Wales, it polled some 250,000 votes but did not reach the threshold needed to get an MEP elected.
In 2005 the party enjoyed its first electoral success, when Mr Galloway won the formerly safe Labour seat, Bethnal Green and Bow.
He had been a Labour MP for 18 years, holding the Glasgow Kelvin seat, but this was abolished in boundary changes.
The year before Respect was formed, Mr Galloway was expelled from Labour over comments against the war and the government, which he branded "Tony Blair's lie machine".
In Bethnal Green and Bow - whose sitting MP Oona King had voted for the war - Mr Galloway overturned a 10,000 vote majority to become the first Respect MP.
The party also had success at local council elections the following year but this was effectively wiped out during the 2010 general and local election.
Mr Galloway too failed to be re-elected, coming third in the notionally safe Labour seat of Poplar and Limehouse.
It voted last year to amend its previously held position of not organising in Scotland because in the past the country had a thriving left.
Mr Galloway is standing in the Glasgow list - as part of a 'Coalition against Cuts' - which has another seven Respect candidates on it.
The party has pledged to fight against "unnecessary, counter-productive and unjust" cuts to public services, and against "illegal and immoral" wars, citing the action in Libya as an example.
Related Internet Links
The BBC is not responsible for the content of external sites.