Homeless warning signs 'missed' in runaway children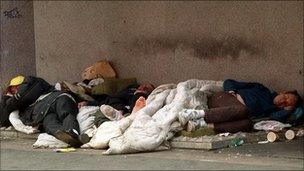 Child runaways are more likely to become homeless as young adults, research by Shelter Scotland has revealed.
The report found that 84% of Scotland's homeless people aged between 16 and 24 ran away from home at least once before they were 16.
The charity suggests targeting child runaways now could improve future rates of youth homelessness.
Last year, 15,517 young people were registered as homeless in Scotland.
A spokesperson said: "It might seem obvious that running away young can lead to homelessness later in life. But this early indicator is being missed."
Jessie Crawford, children's service policy and practice co-ordinator at Shelter, said: "Cases of under 16-year-olds running away are often unreported and unknown.
"These runaways are less likely to know their rights or where to go."
Local authorities are legally required to provide accommodation for homeless children under 16.
Ms Crawford said: "Before now there hasn't really been any link up between identifying runaways as the potential homeless youths of the future. We hope the research will change this."
Approximately 11% of under 16-year-olds in Scotland run away from home or care at some point.
Related Internet Links
The BBC is not responsible for the content of external sites.