Scheme encourages digital switchover help for elderly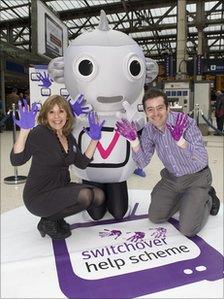 An initiative has been launched which aims to make sure elderly and disabled people are not caught out when analogue television ends.
The Helping Hand scheme urges people to tell those aged over 75 and disabled people about the special assistance available for switching to digital.
It was launched by broadcaster Maggie Philbin at Waverley Station in Edinburgh.
The last analogue signals in Scotland will be turned off during May and June.
However the Freeview digital service will be extended at the same time to cover almost every home.
Through the Switchover Help Scheme run by the BBC, people with disabilities and anyone aged over 75 can get one TV converted to digital by an approved installer, a demonstration and aftercare for £40.
It is free for people on certain benefits and allowances.
Miss Philbin asked passers-by at Waverley Station to place a purple hand print on a canvas along with the name of the person they would tell about the help.
She said: "Switchover is coming soon. Give a helping hand and remind older and disabled people in your area about the Switchover Help Scheme.
"You never know, you may be the one person that they trust to give them good advice."
About 90% of people have digital TV on their main set already and the vast majority of portables are ready for the switchover.
But there is concern that some of the remaining analogue viewers may find the process difficult or confusing.
The digital switchover process lasts two weeks. First, the BBC2 analogue signal is turned off and replaced by the BBC's digital channels.
Two weeks later the signal is turned off for BBC1, STV, Channel 4 and Channel 5, but more digital commercial stations go on the air.
The Darvel and Rosneath transmitters, along with most of the local relay transmitters in Ayrshire, West Dunbartonshire, Arran, Islay, southern and eastern Kintyre and Mid Argyll begin the process on May 11.
The Craigkelly and Blackhill transmitters - which cover most of the Central Belt - follow in June, along with the rest of the local relays.
Related Internet Links
The BBC is not responsible for the content of external sites.