Langlee plant to give household waste a 'second chance'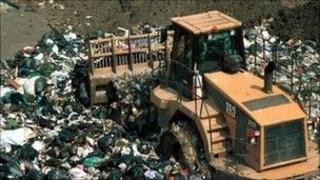 Scottish Borders Council has signed a 24-year contract with a waste treatment company to constuct and operate a new refuse plant near Galashiels.
The council said the plant would handle about 45,000 tonnes of waste per year.
The mechanical biological treatment (MBT) facilities are designed to sort through 'black bin-bag' refuse and find what can be recycled or recovered.
Waste treatment company New Earth Solutions says refuse going to landfill can be reduced by about 80%.
Scottish Borders Council (SBC) is endorsing this "second-chance recycling" to reduce its carbon footprint by diverting waste away from landfills.
They also said it could "minimise SBC's exposure to Landfill tax".
According to Sepa there are around 70 'MBT' plants working across Europe, with three already in Argyll and Bute.
Local concern
Local Langlee residents have raised concerns about the impact the facility could have on housing and road safety.
The building, which will feature a 12m (about 40ft) high chimney, is to be placed near the site of the current community recycling centre and landfill that is about 400 metres from local homes.
Councillors have said that measures and "adequate screening" can be put in place to reduce any impact on the road and nearby housing.
Planning permission was given for the facility on 11 April.
The plant must now be given permit-approval by Sepa to go ahead. If they do so, construction will start in September 2011 and the building could be operational by October 2012.