Glasgow Caledonian University has licence suspended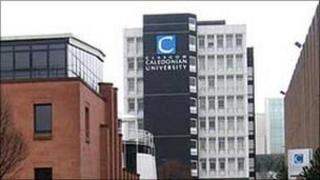 Glasgow Caledonian University has had its licence to sponsor foreign students temporarily suspended by the UK Border Agency (UKBA).
The move came after an agency inspection indicated 150 Filipino nursing students had been working almost full-time.
The university said it was co-operating with authorities to resolve the issue.
Unions have called for an immediate inquiry into the running of the university.
The foreign students have been taking a BSC Nursing (Professional Development) course, which is understood to involve a large proportion of work-based learning.
Under immigration rules, students are allowed to work while they are studying, but only for a maximum of 20 hours a week.
But following an inspection last week, the agency expressed concern that students were working much longer hours.
It is understood students were found to be working full-time in care homes and had only been attending formal studies for one or two days a month instead of the required minimum of 15 hours a week.
'Abuse concerns'
Phil Taylor, UK Border Agency regional director, said: "I can confirm that Glasgow Caledonian University's Tier 4 licence has been suspended following concerns about abuses of the immigration system.
"Highly trusted sponsors bringing in international students must ensure that they are attending the course for which they are enrolled and that they are complying with the requirements of the immigration rules.
"The UK Border Agency makes regular checks on sponsors, and where we find evidence that they are not fulfilling their duties, we may suspend their licence."
The university now has 28 days in which to demonstrate it has addressed the problems or it could have its Tier 4 "trusted sponsor" licence revoked.
About 10% of the university's 17,000 students are from overseas.
In a statement, the university said it expected the issues to be resolved in the near future.
It said: "As conversations are ongoing, the UKBA has asked the university to implement a 28-day suspension of our processing of immigration paperwork, as their processes require.
"While we feel that this action is disproportionate, we are working with them to fully understand the issues and implement any changes needed as a result.
'Duty of care'
"Our duty of care to our students is our absolute priority and they have time and again recognised that by voting us top in Scotland for international student support. We are proud of that, and will ensure it remains the case as we make any changes requested of us."
Unions called for an immediate inquiry into the running of the university.
In a statement, the university's combined union committee (CUC) claimed Glasgow Caledonian had become the first institution in the UK to have its Tier 4 licence suspended.
Dr Nick McKerrell, CUC convener, said: "Serious questions need to be answered by all senior management at GCU. Thus the unions are requesting an immediate independent inquiry into the running of the institution.
"Also our governing body, the Court, must convene an emergency meeting to make senior managers answer for their actions.
"We are in uncharted waters here. Only such actions will reassure staff that these issues are being taken seriously."