'Unique' Scotch whisky to help Japan disaster victims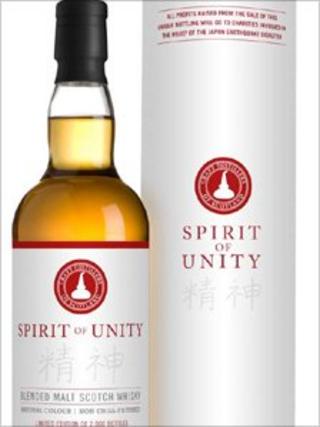 A unique whisky made by seven independent Scottish distilleries to raise money for the disaster relief effort in Japan has almost sold out - before it has even been bottled.
The distilleries each donated a cask of single malt to create a limited edition whisky called Spirit of Unity.
Most of the 2,000 bottles expected to be produced have been pre-sold ahead of its planned bottling by mid-May.
It is hoped up to £80,000 will be raised from their sale.
Those behind the collaboration, between distillers Arran, BenRiach, Bladnoch, GlenDronach, Mitchell's Glengyle, Kilchoman and Springbank, said the firms had never collaborated in this way before and were never likely to again.
The combined casks will produce about 2,000 bottles with 1,200 available in the UK at a cost of £59 each.
The remainder will be shipped to Japan, with some being donated for sale in New Zealand to assist with relief in the aftermath of the Christchurch earthquake.
'Moved to help'
The idea came from Euan Mitchell, managing director of Isle of Arran Distillers.
Mr Mitchell said: "Many in our industry, like me, travel regularly to Japan and have made friends and contacts with Japanese whisky enthusiasts.
"On seeing the scale and horror of the problems they are facing we were moved to help and other craft distillers immediately came on board.
"Not a penny of profit will be taken from this project by any of the parties involved, with the packaging being donated free of charge."
Independent whisky expert David Broom said: "Nothing like this has been produced before and whisky lovers around the world will be clamouring to own and taste this one-off bottling."
The Spirit of Unity is being handled by two online whisky retailers - Royal Mile Whiskies and Loch Fyne Whiskies - and in their respective shops in Edinburgh and London, and Inveraray.
Richard Joynson, owner of Loch Fyne Whiskies, told BBC Scotland's news website: "There has been a tremendous take-up of the bottle amongst existing whisky fans and there are only a few bottles left to be snapped up."
Last month, a rare bottle of 70-year-old Scotch whisky which was auctioned for the victims of the earthquake and tsunami in Japan raised £15,000 at a sale in Edinburgh.