Scottish shoppers tell of Royal wedding apathy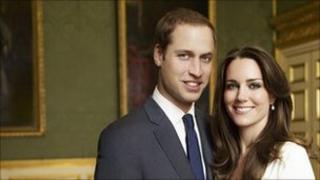 On Glasgow's Buchanan Street Scottish shoppers amble, chat, and sidestep around leafleters. An old newspaper scurries along the ground with a deep blue jewel on the front page.
It's on the hand of the soon-to-be Princess William of Wales, accompanied by her well known starch white smile.
There have been bunting-filled street parties organised all over the UK in celebration of the royal wedding, but how much of the jelly and custard will make it north of the border?
A man waiting for the bus home said: "I'm not a royalist, I don't particularly care about them.
"I don't think anyone's celebrating in Glasgow. I think people are looking for another Charles and Diana to latch onto. People just don't care."
The main feeling coming from people on the streets was apathy.
A young man sat on a bike next to the sandy-coloured steps of the Royal Concert Hall said: "I'm going round to my girlfriend's house because her dad's a massive Rangers fan so he'll be celebrating it, but I don't care to be honest."
When asked whether they knew of any street parties, most people didn't.
The dress
Two women looking at a dress in a shop window said: "We didn't celebrate Charles and Diana.
"I don't think anyone's applied to have a street party in Scotland, have they?
"But then again I think it might surprise you how many people might do, I think the younger ones might."
There were others who had stronger views about the event.
A man selling newspapers said: "I want nothing to do with the Royal family, I have no time for them. They're moochers on society, that's what they are. I won't be celebrating it at all."
Perhaps it was because the interviews took place in Glasgow's main shopping area, but one thing that people said they would be watching the wedding for was to solve the mystery of Kate Middleton's dress.
"I don't think anyone knows who's making it", a woman said.
Both the dressmaker and the design have been kept secret until Friday.
A girl waiting for friends said: "I'll be watching it for the dress and to see what they're all wearing."